October 2022: still waiting for parts…
Wow, it's been almost a year since my last update about how Pololu has been impacted by the global supply chain disruptions and chip shortages. And unfortunately, not much has improved. In today's post, I will cover a few representative component stock histories and then go over other areas of our business that have been impacted and what we are doing to get through this situation.
Some parts on order since 2020 still have not shipped
In the case of one important part I mentioned last year, we are still waiting for an order placed in late 2020 without having received anything since a partial shipment in March 2021! Here is what our internal stock chart looks like for that component:
When I wrote about this component in November of 2021, we still had 461 units in stock, and the manufacturer was giving me specific updates about where we were in line and how I could expect parts by Q1 2022 or maybe even by the end of 2021. Well, we are now getting close to the end of 2022, and they are not even giving me updates anymore on when I can expect these parts that I ordered in 2020! We have gone almost a year without being able to make or sell the products that use that chip.
Some parts arrived in 2021 and early 2022, but we are out again
That first example of still waiting for an order from 2020 is not typical. Unfortunately, we are seeing more and more of this pattern:
This is a component we ran out of over the summer of 2021, but we received some shipments in August of that year, and then more in early February of this year. But since then, nothing, and we are about to run out again despite our attempts to carefully ration the parts. It's been over 14 months since I placed my oldest unfilled order for these parts, and the current expected ship date is February 2023.
Shifting demand clears out stock of alternative components
Another pattern we are seeing more of looks like this:
Here, we were in a pretty good stock situation at the beginning of the year on a component we didn't use that many of. However, as we raised prices on other products or ran out of stock completely, our customers moved to some of our recommended alternatives and cleared us out of those, and hence the sudden dropoff of those parts in April of this year. The additional problem with components like these is that we did not have as many on order because our historical usage was not that high, so it might take an extra long time to get that back to decent stock levels.
New "supply outlook" feature
We commonly use the same components in several different products. One of the main ways we are dealing with the shortages is to substantially reduce our inventory of completed products so that we can be sure the components we do have are going toward products that are getting sold immediately.
One big downside of reduced ready-to-sell inventory is that it's difficult for customers to tell what is really, really unavailable because we've been out of parts for a year and what is actually available as soon as we make some more. To give you some automated guidance, we introduced a "supply outlook" feature to our website. Here is how that looks at the moment: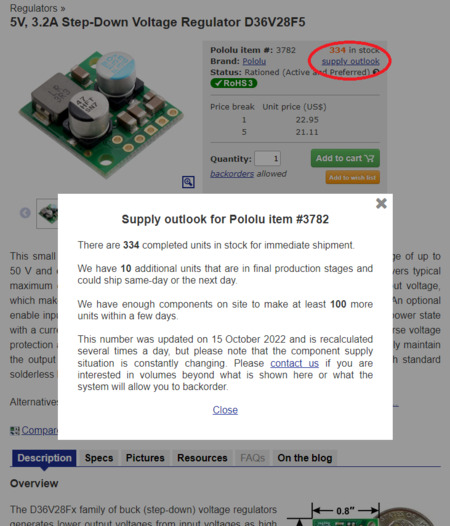 The calculations of what we can make are quite complicated given that we have thousands of different components going into thousands of different products, and the products (and the associated inventory) can be in various stages of production. Components stop being available once they are soldered onto a board, but that board might still go through many more processing steps before being ready and available for sale. The in stock and "in final production stages" quantities should be spot on, but we variously round down the "enough components" estimate to keep it conservative. The numbers can be outdated quickly since we are selling and making products all the time, but we regenerate those numbers several times a day to be as up-to-date as possible.
The supply outlook feature does not factor in components we have on order, though this year has proven that would be almost useless anyway (I'm not sure if I prefer the suppliers who give me no estimate of a ship date or those who have been saying "next week" for months). On our to-do list is to get more manual/human notes so that we can have updates like, "we are estimated to receive components in March 2024".
I wish that last line was exaggeration. Unfortunately, I am getting more and more order confirmations with lead times of well over a year and estimated ship dates in late 2024. For parts I ordered early this year, we are approaching three-year lead time estimates for components.
Supply chain issues impact other aspects of business
Although the chip shortages are the most nerve-wracking aspect of the current environment, other aspects of our business are also affected by the supply chain problems, and it's getting more and more uncomfortable.
Waiting more than 9 months for commercial air conditioners - One literal example is the air conditioners in our building. We have over fifty of them, and dozens of them are over twenty years old, meaning they are inefficient and reaching the end of their useful lives. We have had several on order since the beginning of the year, and at this point we are hoping that maybe they will arrive by the end of this year. Fortunately, we made it through the summer, but several units did die recently, and it's not clear that we can even have them replaced by next summer.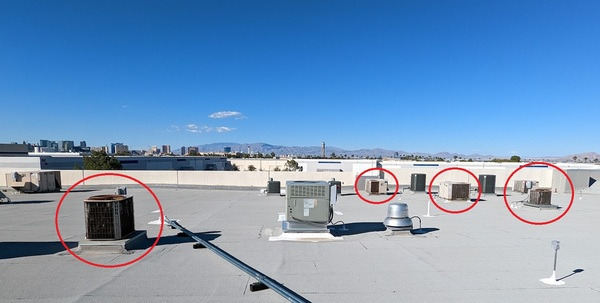 Old ACs on Pololu building roof, waiting for replacement. Las Vegas Strip in the background.
Waiting more than 6 months for window film - We started applying special solar-blocking films to our windows to help reduce the energy use by the ACs. That project started in late spring, and although part of it got done over the summer, most of it has been delayed by at least six months waiting for more of the film to get manufactured.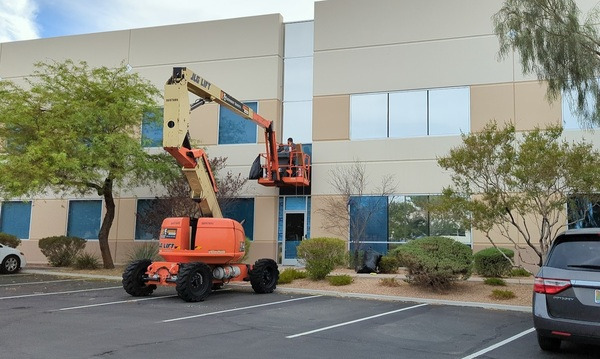 Pololu window tinting, July 2022.
6-12 month lead time on compressors and nitrogen generators - We ordered a nitrogen-generation system earlier this year, and lead times on that are in the ballpark of a year as well. There are several components to the system and we get billed for them as they arrive, so I don't think the manufacturer is holding back on any of them while waiting for the others. One component is a fairly standard (though nice) air compressor that I am expecting to use for the rest of manufacturing as our existing ones are getting kind of old. It's scary to think some of our production or equipment could be out of commission for a year waiting for machines or components that normally are available within a few weeks.
Outlook
We have been very fortunate at Pololu because we have a broad range of products and do our own design and production, so we have been able to adjust what we make based on what components are available. I don't understand how more small manufacturers are not going out of business, though I am anecdotally starting to hear more about companies facing financial difficulties. Contract manufacturers in particular have it tough when they have to pay for the components they can get while waiting forever for the last few components and not getting paid until they can complete the final product.
My main hope is that just as we could not see how bad the shortages would be, we cannot see how close we are to the end. If it took two years to get a part that shipped today, it might be reasonable to estimate it will take two years to get a part we order now, or even to tack on an extra year for good measure, but eventually things will be better. I expect inventories everywhere are building up (ours are, just not of the last few critical parts!), and the coming global recession that seems to be forecasted from all sides (e.g. by the IPC) could accelerate chip manufacturers finally catching up to the extra demand from the last few years.
Since we are a small business, broader economic downturns can sometimes work in our favor. Our customer base is such a tiny portion of the world, and some of them could do well even if on average the global economy does not. If the slowdown leads to parts we need becoming available sooner, that might overall be better for us. Some of our best supplier relationships came out of the 2008 downturn, when companies started caring about our business after losing some of their bigger customers. We also got a good deal on renting part of the building we are in after it sat vacant for a couple of years, and that served us especially well as we gradually expanded to the whole building over the past ten years.
It's unsettling that after two years of parts shortages, it does not seem to be getting any better. The situation might even be worse than it was a year ago, but we won't really know until we are out of it and things are actually good again. I know it has been difficult for our customers, especially those who built our products into their own products or curricula and are counting on us to keep their operations moving. Please know that we are working very hard to keep our stock and production levels up with the minimal possible disruptions, and thank you very much for your continued business and support.
1 comment
Post a comment