New RoboClaw and MCP motor controllers from Basicmicro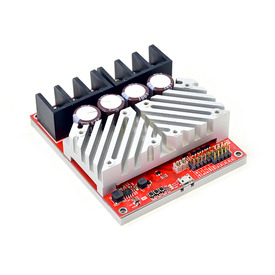 RoboClaw 2×60AHV, 60VDC Motor Controller.
We are excited to offer eight new powerful motor controllers from Basicmicro (formerly Ion Motion Control):
The two new RoboClaws bring our total selection of those to nine versions. Unlike the other RoboClaws, which have a maximum operating voltage of 34 V, these new RoboClaws and some of the new MCP controllers can work up to 60 V and deliver a continuous 60 A or 120 A per channel, making them the most powerful motor controllers we carry by far.
| | | |
| --- | --- | --- |
| MCP233 Dual 30A, 34VDC Advanced Motor Controller. | MCP263 Dual 60A, 34VDC Advanced Motor Controller. | MCP2163 Dual 160A, 34VDC Advanced Motor Controller. |
The six MCP products are from Basicmicro's rugged new line of MCP Advanced Motor Controllers, which are optionally programmable via a built-in scripting language and support a variety of interfaces, including USB serial, TTL serial, RS-232 serial, CAN bus, RC hobby servo pulses, and analog voltages. Here is a summary of the key features of the MCP:
Simple bidirectional control of two brushed DC motors
10–34 V or 10–60 V operating supply range, depending on controller model
30 A to 160 A maximum continuous current output, depending on controller model
Channel bridging allows control of a single motor with double the current capability
Automatic current limiting reduces duty cycle when temperature exceeds 85° C
Six communication or control options:

USB serial interface (virtual COM port)
3.3 V logic-level (TTL) serial interface for direct connection to microcontrollers or other embedded controllers
RS-232 serial interface
CAN bus interface supporting CANopen protocol as master or slave device
Hobby radio control (RC) pulse width interface for direct connection to an RC receiver or RC servo controller
Analog voltage (0 V to 5 V) interface for direct connection to potentiometers and analog joysticks

Automatic control switching with user-defined priority settings
I²C interface accessible by user script
Up to 20 user-defined input pins for control, feedback, or scripting, depending on controller model
All inputs are 15 V tolerant for interfacing to industrial devices such as PLCs
Up to 8 user-defined open-drain output pins (40 V max) for driving auxiliary loads, depending on controller model
Multiple feedback options for PID closed-loop control:

Speed or position control with quadrature encoders, up to 21 million encoder pulses per second
Position control with analog encoders or potentiometers
(Open-loop control with no feedback also available)

Programmable with built-in user scripting language
Screw terminals for quick connect/disconnect
Configurable via USB connection and PC software
Regenerative braking
Tolerates high-speed direction changes
5 V BEC can power external logic
Battery monitoring and under-voltage cutoff protects batteries from over-discharging
Fully enclosed for protection
Conduction plate for cooling on bottom of enclosure
1 comment
Post a comment