New products: TB67S249FTG and TB67S279FTG Stepper Motor Driver Compact Carriers
Posted by
Jan
on 17 November 2018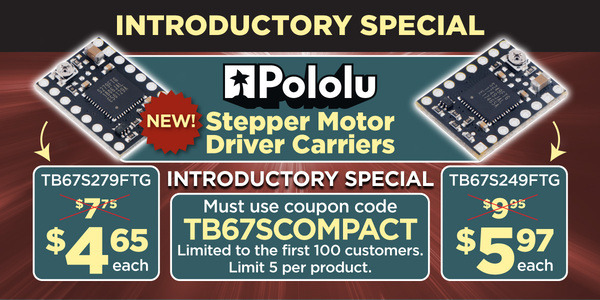 Earlier this week, we released new compact carriers for Toshiba's great stepper motor drivers, the TB67S249FTG and TB67S279FTG. We released larger carrier boards for those two chips in the summer, and those are still the version to get if you want to test all the features that those ICs offer. The new compact carriers are in our popular 16-pin, 0.6″ × 0.8″ form factor (which I originally designed for the Allegro A4983 back in 2009 when I was still routing most of our circuit boards), making it easy to use the new drivers on RAMPS-type 3D printer controllers that have the compatible sockets.
These Toshiba chips are massive, and you can see how much more space they take up on that common PCB size when compared to the original board (populated with the Allegro A4988 that replaced the A4983):
| | |
| --- | --- |
| TB67S249FTG Stepper Motor Driver Compact Carrier (top view). | A4988 stepper motor driver carrier, top view (shown with original green 50 mΩ current sense resistors). |
In addition to fitting the larger chip onto the same board space, we had to add some external inverters to make the enable and reset lines behave the same way as on the original modules (this schematic is also available as a downloadable pdf (141k pdf)).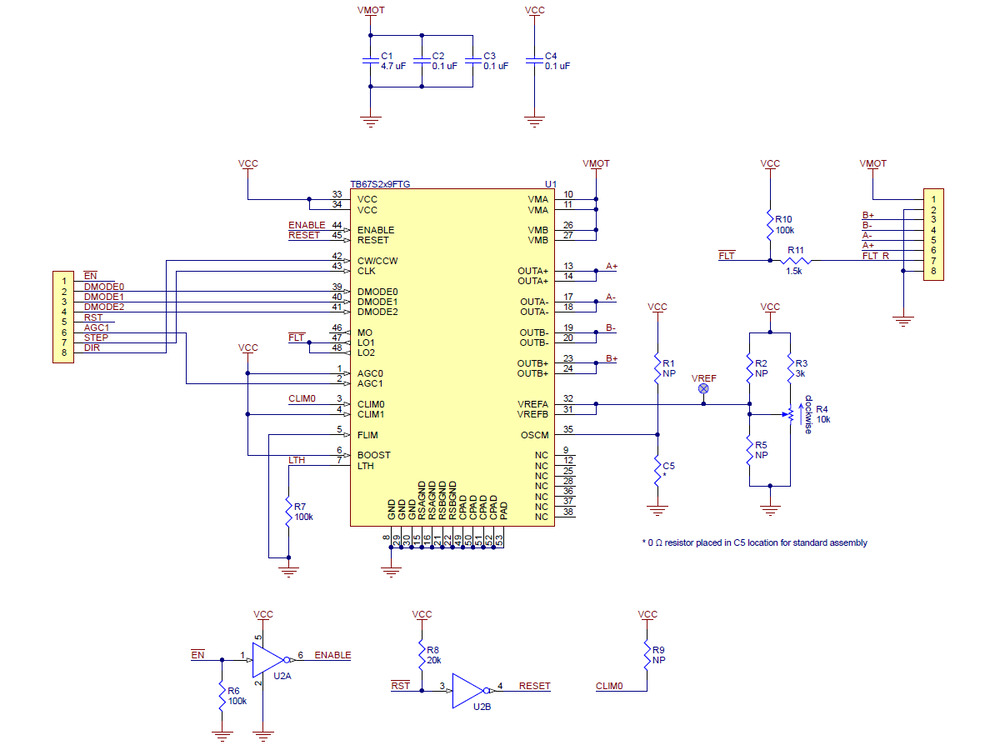 Schematic diagram of the TB67S249FTG/TB67S279FTG Stepper Motor Driver Compact Carrier.
We also had to hardwire many of the options that the TB67Sx49FTG chips offer. In particular, we set the Active Gain Control (AGC) lower current limit to 60%. This innovative feature on the Toshiba stepper drivers allows the current through the stepper motor to be reduced based on what the motor actually needs, which allows for reduced unnecessary heat generation in the motor and higher peak power when you actually need it. I have heard (from Toshiba's competitors, who also acknowledged that Toshiba is one of the few big semiconductor companies bringing real innovation to stepper motor drivers) of the AGC feature not working in some applications, but when it works, it's quite amazing. We tried out the Toshiba TB67S249FTG drivers on a Tevo Tornado 3D printer that originally had Allegro A4988 drivers on an MKS GEN control board, and we could run at higher current and with 1/32 microstepping instead of the A4988's 1/16 microstepping, which also gave a noticeable improvement in print quality.
The TB67S249FTG is now our highest-power option, and in addition to delivering a little bit more power than our previous leader, the TI DRV8825, the Toshiba driver seems to provide better current control with the relatively low inductance, low resistance coils often used on these low-end 3D printers. If you do not need that maximum current aspect, you can get all the other special features with the lower-power, lower-cost TB67S279FTG.
As with all of our new products this year, we are offering an introductory special. For these two new modules, we are offering 40% off for up to five units (per version!) to the first 100 customers that use coupon code TB67SCOMPACT. This means you can try out the top-of-the-line TB67S249FTG for less than $6.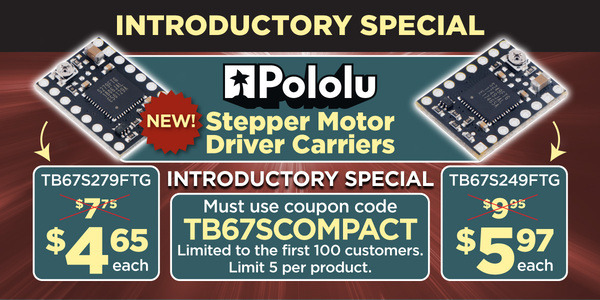 0 comments
Post a comment