MCP2166 Dual 160A, 60VDC Advanced Motor Controller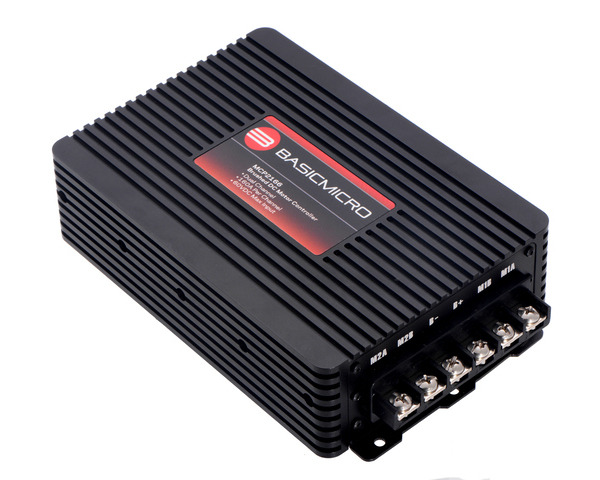 The MCP motor controllers from Basicmicro (formerly Ion Motion Control) can control a pair of brushed DC motors using USB serial, TTL serial, RS-232 serial, CAN bus, RC, or analog inputs. Integrated dual quadrature decoders make it easy to create a closed-loop speed control system, and advanced features including internal scripting support and user-configurable I/O make it suitable for standalone applications. This version can supply a continuous 120 A per channel (160 A peak) at voltages from 10 V to 60 V.
Alternatives available with variations in these parameter(s): continuous output current per channel maximum operating voltage Select variant…

Compare all products in MCP Advanced Motor Controllers.
Overview
The MCP series from Basicmicro (formerly Ion Motion Control) are a family of rugged, high-performance motor controllers with scripting support and other advanced features. They can supply brushed DC motors with 30 A, 60 A, or 120 A continuous at voltages from 10 V up to 60 V (depending on the model).


MCP233
(34 V max)

MCP236
(60 V max)


MCP263
(34 V max)

MCP266
(60 V max)


MCP2163
(34 V max)

MCP2166
(60 V max)
Operating voltage:
10 V to 34 V (MCP2x3 versions)
10 V to 60 V (MCP2x6 versions)
Continuous output current
per channel:
30 A
60 A
120 A
Peak output current
per channel:
30 A
60 A
160 A
Size(1):
88 × 72 × 26 mm
115 × 107 × 34 mm
212 × 126 × 50 mm
Weight:
140 g
340 g
1630 g
Price:
MCP233:

$259.95


MCP236:

$299.95

MCP263:

$359.95


MCP266:

$399.95

MCP2163:

$619.95


MCP2166:

$731.95
1 Including connectors and mounting flanges.
Each MCP motor controller has a USB interface that acts as a virtual serial (COM) port, allowing it to be controlled directly from a computer, and it features built-in commands for controlling acceleration, deceleration, distance, speed, voltage and current limits, and more. Several other interface modes are supported by the MCP as well: it can be controlled via TTL serial, RS-232 serial, or CAN bus (using the CANopen protocol) for use with an embedded or industrial system; RC hobby servo pulses for use as an RC-controlled electronic speed control (ESC); or analog voltages for use with potentiometers or analog joysticks.
The MCP features an internal user scripting system and user-configurable I/O pins that allows it to be used as a standalone controller, eliminating the need for an additional processor in many situations. It can be operated without feedback for open-loop speed control, or it can be used with a variety of feedback types for closed-loop speed or position control. A wide range of closed-loop sensors are supported, including quadrature encoders, analog encoders, and potentiometers.
The MCP incorporates several protection features including temperature, current, over-voltage, and under-voltage limits. Several user-definable settings such as a maximum current limit and battery voltage limits are provided for more refined control. The controller uses regenerative braking but can be configured with a voltage clamp circuits to limit the regenerative voltage when used with switching power supplies. The Basicmicro VClamp is a voltage clamp specifically designed to work with the RoboClaw and MCP to suppress such voltage spikes and is rated for use with supplies up to 60 V and currents up to 60 A.
Note: As of May 2023, the MCP controllers no longer support bridging the two channels to control a single higher-current motor.
Details for item #3592
The MCP2166 operates from 10 V to 60 V and can deliver a typical continuous output current of 120 A per channel (160 A peak). It has a USB Type B connector and three rectangular "Molex"-style connectors for control, feedback, and user I/O. (Mating connectors are specified in its datasheet).
Up to 20 digital user inputs are available, 11 of which can be configured as analog inputs and 13 of which can be configured as PWM inputs. 8 user outputs are available; these are open-drain (they can drive low to sink up to 1 A or be set to high impedance) and are 40 V tolerant.
Key Features
Simple bidirectional control of two brushed DC motors
10–34 V or 10–60 V operating supply range, depending on controller model
30 A to 160 A maximum continuous current output, depending on controller model
Automatic current limiting reduces duty cycle when temperature exceeds 85° C
Six communication or control options:

USB serial interface (virtual COM port)
3.3 V logic-level (TTL) serial interface for direct connection to microcontrollers or other embedded controllers
RS-232 serial interface
CAN bus interface supporting CANopen protocol as master or slave device
Hobby radio control (RC) pulse width interface for direct connection to an RC receiver or RC servo controller
Analog voltage (0 V to 5 V) interface for direct connection to potentiometers and analog joysticks

Automatic control switching with user-defined priority settings
I²C interface accessible by user script
Up to 20 user-defined input pins for control, feedback, or scripting, depending on controller model
All inputs are 15 V tolerant for interfacing to industrial devices such as PLCs
Up to 8 user-defined open-drain output pins (40 V max) for driving auxiliary loads, depending on controller model
Multiple feedback options for PID closed-loop control:

Speed or position control with quadrature encoders, up to 21 million encoder pulses per second
Position control with analog encoders or potentiometers
(Open-loop control with no feedback also available)

Programmable with built-in user scripting language
Screw terminals for quick connect/disconnect
Configurable via USB connection and PC software
Regenerative braking
Tolerates high-speed direction changes
5 V BEC can power external logic
Battery monitoring and under-voltage cutoff protects batteries from over-discharging
Fully enclosed for protection
Conduction plate for cooling on bottom of enclosure
| | | |
| --- | --- | --- |
| MCP233 or MCP236 motor controller, bottom view. | MCP263 or MCP266 motor controller, bottom view. | MCP2163 or MCP2166 motor controller, bottom view. |
Note: Basicmicro was formerly Ion Motion Control. Basicmicro uses the following product names and numbers for the MCP controllers:
"MCP233 Dual 30A, 34VDC Advanced Motor Controller" – Item # IMC502
"MCP236 Dual 30A, 60VDC Advanced Motor Controller" – Item # IMC500
"MCP263 Dual 60A, 34VDC Advanced Motor Controller" – Item # IMC503
"MCP266 Dual 60A, 60VDC Advanced Motor Controller" – Item # IMC501
"MCP2163 Dual 160A, 34VDC Advanced Motor Controller" – Item # IMC517
"MCP2166 Dual 160A, 60VDC Advanced Motor Controller" – Item # IMC515