New Product: Dual TB9051FTG Motor Driver for Raspberry Pi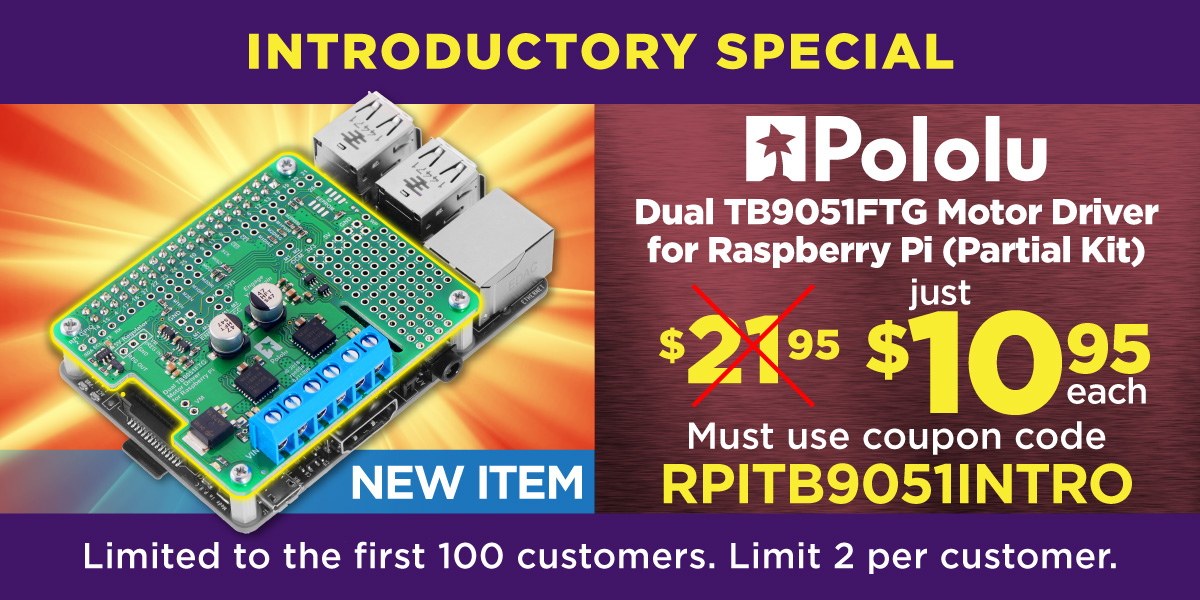 I am excited to share the second Pololu product for which I routed the PCB, the Dual TB9051FTG Motor Driver for Raspberry Pi. This board complements the TB9051FTG Single Brushed DC Motor Driver Carrier and the recently announced Dual TB9051FTG Motor Driver Shield for Arduino by making it easy to control two motors with a Raspberry Pi (Model B+ or newer).
The TB9051FTG can deliver a few amps across a wide operating voltage (4.5 to 28 V), which makes this expansion board ideal for controlling two small or medium size motors in your Raspberry Pi project. You can optionally connect a voltage regulator, like a D24V10F5 or D24V22F5 step down regulator, to power the Raspberry Pi with your motor power supply. The board also provides a prototyping area to help you construct clean custom circuits without the need for additional prototyping PCBs beyond the footprint of your Raspberry Pi.
The Dual TB9051FTG Motor Driver for Raspberry Pi is available in two versions:
a partial kit, with connectors included but not soldered in
fully assembled, with the female header and terminal blocks soldered to the board
The board adheres to the Raspberry Pi HAT (Hardware Attached on Top) mechanical specification, although it does not conform to the full HAT specifications due to the lack of an ID EEPROM. (A footprint for adding your own EEPROM is available for applications where one would be useful.)
With the addition of this product, we now have eight Raspberry Pi motor driver expansion boards for you to choose from. To control more powerful motors, we offer various high-power motor drivers for Raspberry Pi. If you don't need all the power provided by the TB9051FTG, consider our small and inexpensive DRV8835 Dual Motor Driver for Raspberry Pi or the dual MAX14870 motor driver expansion board (the first board I routed).
We have an introductory discount to go with this new product announcement. The first 100 customers to use coupon code RPITB9051INTRO can get up to two units for just $10.95 each. Note that this introductory offer applies only to the units without connectors soldered in. The introductory coupons for the single TB9051FTG carrier, the dual TB9051FTG Arduino shield, and some other products introduced this year are still available; you can see all the coupons available on our specials page.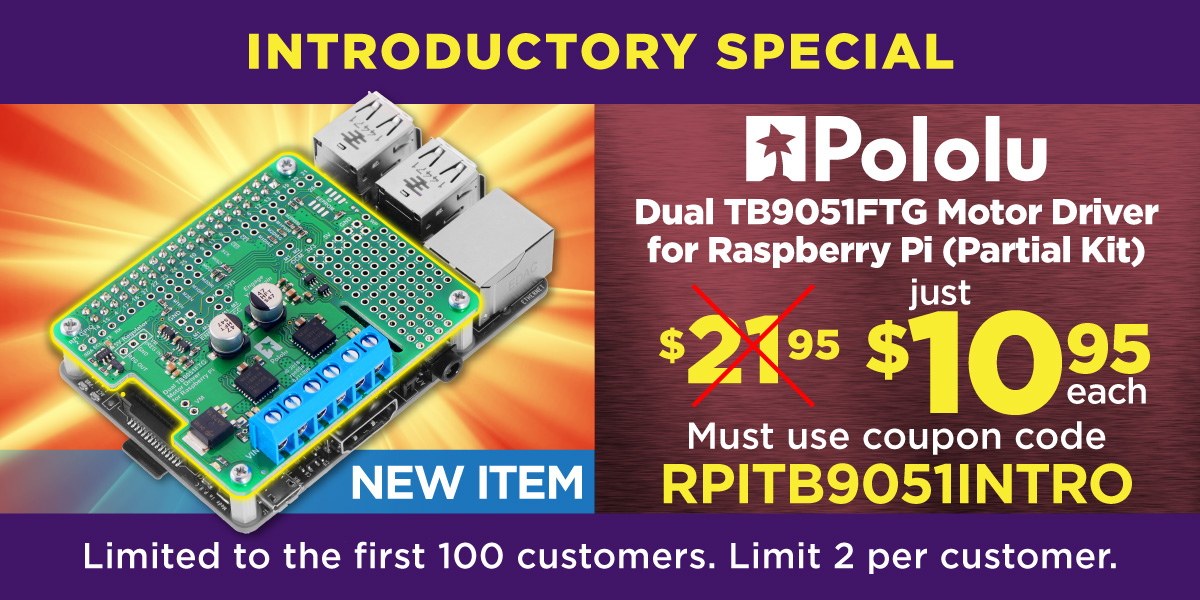 2 comments
Post a comment