New Product: Jrk G2 21v3 USB Motor Controller with Feedback
Posted by
Jan
on 20 July 2018
Our Jrk G2 family is growing! Today we released the Jrk G2 21v3 USB Motor Controller with Feedback, which you can think of as the baby version of the new Jrk G2 motor controllers we released a few months ago or the updated version of our original Jrk 21v3. I already wrote about the history of the Jrk motor controllers in the blog post announcing the Jrk G2 motor controllers, so for today's announcement I just want to quickly go over how small this motor controller is and how much we packed into it.
First off, this latest controller is small! Here it is next to the original Jrk 21v3: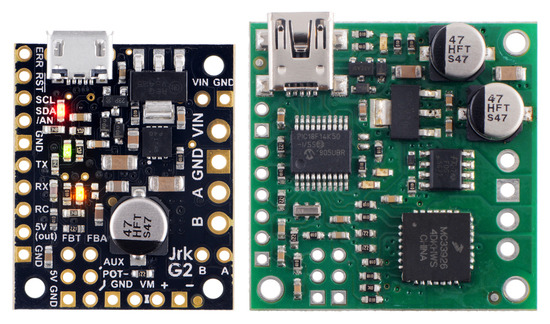 Comparison of the newer Jrk G2 21v3 (black PCB) with the original Jrk 21v3 (green PCB).
We managed to reduce the size by more than a third, which is quite an achievement given that connectors and mounting holes already took up a pretty good portion of the board area, and we did not want to reduce those. If you looked closely at that picture above, you probably noticed that the motor driver and microcontroller are not visible on the G2, and that's because they're now on the back side. Here is that back side, with a quarter for scale: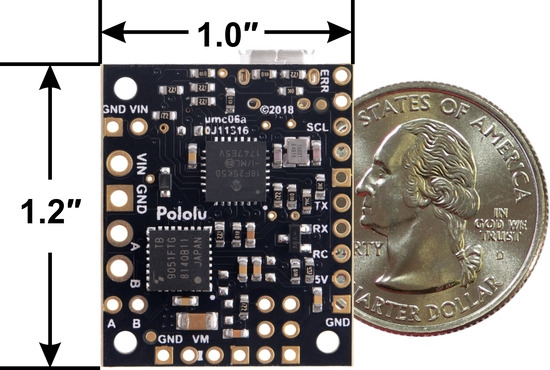 Jrk G2 21v3 USB Motor Controller with Feedback, bottom view with dimensions.
Because the Jrk G2 21v3 is based on the same foundation as our bigger controllers, you get all the same convenient configurability over USB using our software utility that is available for Windows, macOS, and Linux (if you are interested, you can read more details in this post about the Jrk G2 software).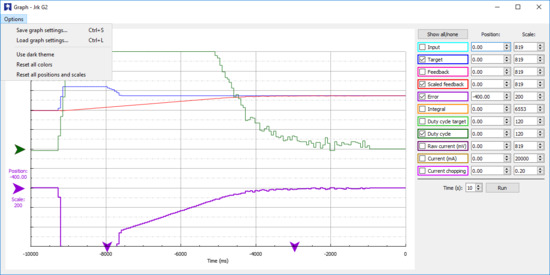 The graph window in the Jrk G2 Configuration Utility (version 1.2.0).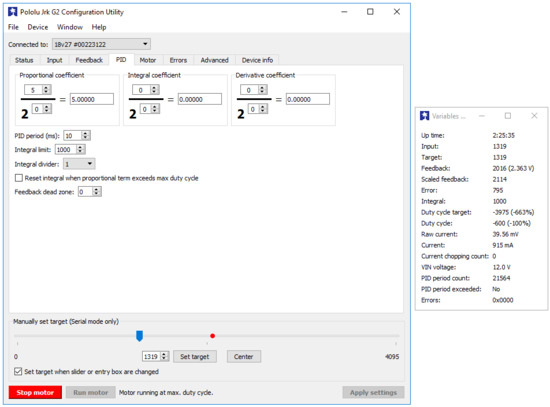 The main window and the variables window in the Jrk G2 Configuration Utility (version 1.2.0).
You also get all the great features and interfaces of the Jrk G2 family:
Easy open-loop or closed-loop control of one brushed DC motor
A variety of control interfaces:

USB for direct connection to a computer
TTL serial operating at 5 V for use with a microcontroller
I²C for use with a microcontroller
RC hobby servo pulses for use in an RC system
Analog voltage for use with a potentiometer or analog joystick

Feedback options:

Analog voltage (0 V to 5 V), for making a closed-loop servo system
Frequency, for closed-loop speed control using pulse counting (for higher-frequency feedback) or pulse timing (for lower-frequency feedback)
None, for open-loop speed control
Note: the Jrk does support using quadrature encoders for position control

Ultrasonic 20 kHz PWM for quieter operation (can be configured to use 5 kHz instead)
Simple configuration and calibration over USB with free configuration software utility (for Windows, Linux, and macOS)
Configurable parameters include:

PID period and PID coefficients (feedback tuning parameters)
Maximum current
Maximum duty cycle
Maximum acceleration and deceleration
Error response
Input calibration (learning) for analog and RC control

Optional CRC error detection eliminates communication errors caused by noise or software faults
Reversed-power protection
Field-upgradeable firmware
Optional feedback potentiometer disconnect detection
Here is a quick comparison of the different Jrk versions, including the original ones that we do not recommend for new designs:

Jrk
21v3

Jrk
12v12

Jrk G2
21v3

Jrk G2
18v19

Jrk G2
24v13

Jrk G2
18v27

Jrk G2
24v21
Recommended max
operating voltage:
28 V(1)
16 V
28 V(1)
24 V(2)
34 V(3)
24 V(2)
34 V(3)
Max nominal
battery voltage:
24 V
12 V
24 V
18 V
28 V
18 V
28 V
Max continuous current
(no additional cooling):
2.5 A*
12 A
2.6 A
19 A
13 A
27 A
21 A
TTL serial, USB,
Analog, RC control:
I²C control:
Hardware current limiting:
Dimensions:
1.35″ × 1.35″
1.85″ × 1.35″
1.0″ × 1.2″
1.4″ × 1.2″
1.7″ × 1.2″
Price:

$79.95

$199.95

$59.95

$119.95

$119.95

$149.95

$159.95

1 Transient operation (< 500 ms) up to 40 V.
2 30 V absolute max.
3 40 V absolute max.
* Reduced from "3 A" based on newer, more stringent tests. The value now is directly comparable to the rating for the newer G2 21v3.
No new product announcement this year would be complete without our introductory special: be among the first 100 customers to use coupon code JRKG2INTRO and get up to three Jrk G2 motor controllers for 40% off. This coupon is good for the whole family, so you can use it for the 21v3 version we released today or for the larger units released earlier this year.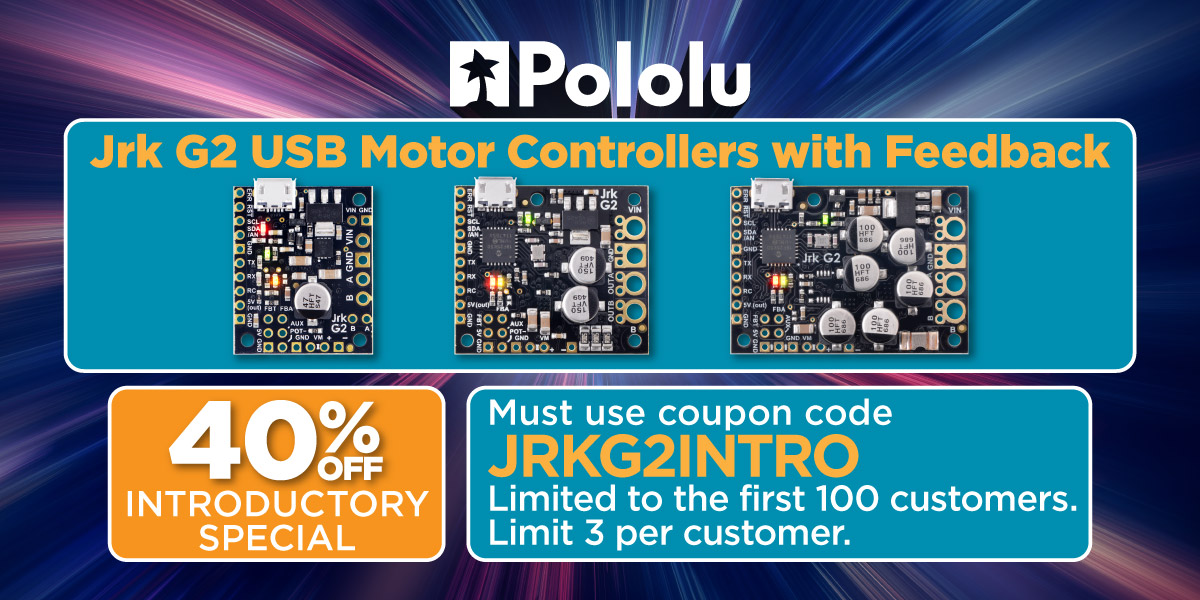 0 comments
Post a comment