New product: Raspberry Pi 3 Model B+
Posted by
Jan
on 25 July 2018
We are now carrying the Raspberry Pi 3 Model B+. The Raspberry Pi is a popular credit card-sized computer that can run ARM Linux distributions. The Raspberry Pi 3 Model B+ has many performance improvements over the Pi 3 Model B including a faster CPU clock speed (1.4 GHz vs 1.2 GHz), increased Ethernet throughput, and dual-band WiFi. It also supports Power over Ethernet with a Power over Ethernet HAT.
This comparison chart shows some of the improvements in the Raspberry Pi over the years:

Raspberry Pi Model B

Raspberry Pi Model B+

Raspberry Pi 2 Model B

Raspberry Pi 3 Model B

Raspberry Pi 3 Model B+
CPU:
BCM2835
BCM2836
BCM2837
BCM2837B0
CPU cores:
1
4
CPU speed:
700 MHz
900 MHz
1.2 GHz
1.4 GHz
RAM:
512 MB
1 GB
Ethernet:
Yes
WiFi:
No
2.4 GHz 802.11n
2.4 GHz & 5 GHz 802.11b/g/n/ac
Bluetooth:
No
4.1
4.2
Bluetooth Low Energy:
No
Yes
HDMI:
Yes
Analog video:
Yes
Yes1
SD socket:
SD
microSD
Onboard regulators:
linear
switching
Expansion header pins:
26
40
USB ports:
2
4
Mounting holes:
2
4
Dimensions2:
3.35″ × 2.2″ × 0.8″
Weight3:
40 g
42 g
50 g
1 Audio and analog video provided by a single four-pole 3.5 mm jack. This 3.5 mm jack also has its own dedicated low-noise power supply for improved audio.
2 Length and width measurements are for the PCB only; several of the connectors extend past the edge of the board.
3 Weight does not include microSD cards.
The Raspberry Pi 3 Model B+ maintains compatibility with the HAT (hardware attached on top) standard, and it works with our large selection of Raspberry Pi motor drivers and robot controllers.
We also offer two mobile robot platforms ready for expansion with the Raspberry Pi: the Balboa 32U4 Balancing Robot Kit and the Romi chassis using the Romi 32U4 Control Board.
Like many sites selling Raspberry Pis, we do not have any special source or price for these, and we are just carrying them for the convenience of customers who are interested in our products that work with the Raspberry Pi. To limit our losses without resorting to the "limit one per customer" kind of restrictions on other sites, we for the first time implemented reverse price breaks on our site, meaning the price per unit goes up as the quantity goes up: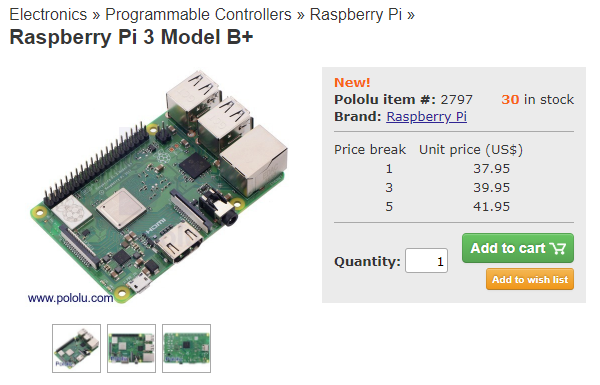 Reverse price breaks on the Raspberry Pi 3 Model B+
I am not very excited about these kinds of restrictions, so we were close to not offering the new Raspberry Pis at all. I hope that it will prove to be useful or convenient for at least some of you, and those looking for larger quantities can shop around for a better source. I am interested in what customers think, so please share your thoughts. Are the reverse price breaks annoying? Is it better to offer this than nothing at all?
0 comments
Post a comment