New product: high-density QTR reflectance sensor arrays
Posted by
Jan
on 31 July 2018
I am excited to announce the first of a new line of reflectance sensor arrays that feature a high-density 4-mm pitch and dimmable IR emitter brightness control. In addition to versions with our familiar IR emitter/phototransistor pair modules without lenses, which we will keep calling "QTR," we have versions with a higher-performance sensor with lenses on the IR emitter and phototransistor, which we are calling "QTRX." These higher-performance sensors allow similar performance at a much lower IR LED current, which can really start adding up at higher channel counts. (High-brightness, "QTRXL" versions of these boards are coming soon, too.)
These new sensor arrays also feature LED brightness control that is independent of the supply voltage (which can be 2.9 V to 5.5 V) and separate controls for the odd-numbered LEDs and the even-numbered LEDs, which gives you extra options for detecting light reflected at various angles. As with our older QTR sensors, we are offering these in "A" versions with analog voltage outputs and "RC" versions that can be read with a digital I/O line on a microcontroller by first setting the line high and then releasing it and timing how long it takes for the voltage to get pulled to the logic low threshold: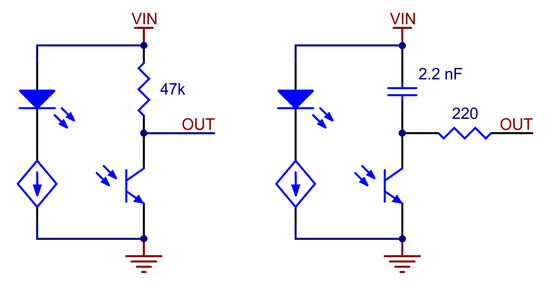 Schematic diagrams of individual QTR sensor channels for A version (left) and RC version (right). This applies only to the newer QTRs with dimmable emitters.
This announcement therefore covers four total new products:
As with all our new products this year, we are offering a special introductory promotion, and this one is for half off up to three of each sensor type, limited to the first 100 customers using coupon code QTRHD07INTRO.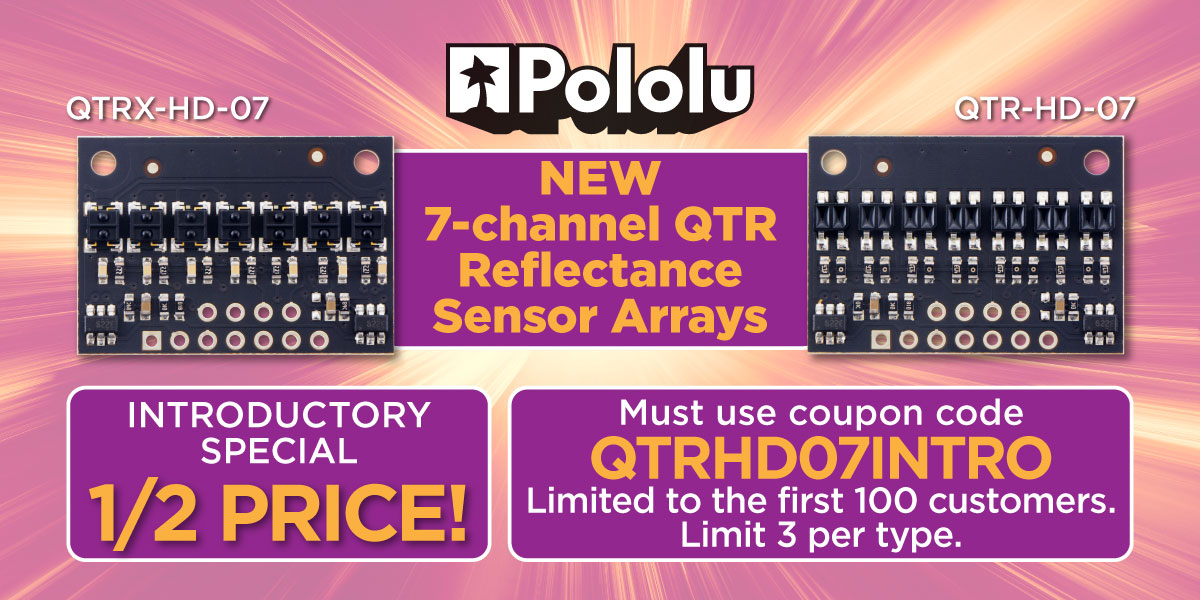 0 comments
Post a comment