New Product: Dual TB9051FTG Motor Driver Shield for Arduino
Posted by
Jan
on 13 July 2018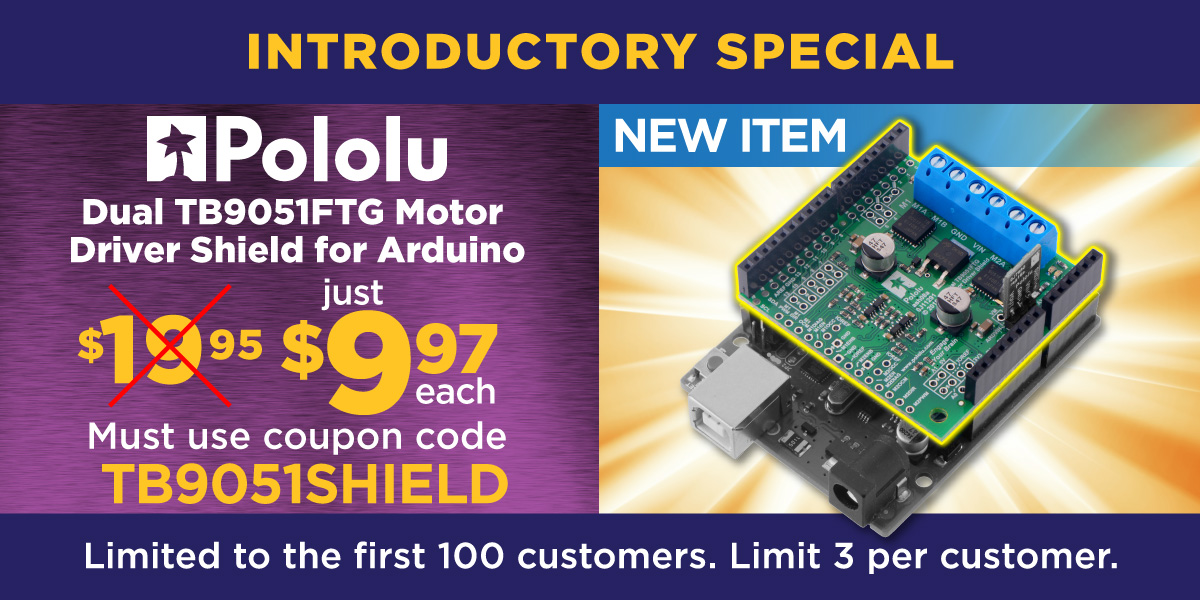 I am happy to announce the Dual TB9051FTG Motor Driver Shield for Arduino. It gives you two of our favorite integrated motor driver (you can read more about why I like it in my TB9051FTG carrier blog post) in the convenient Arduino shield form factor. You can also think of it as a lower-cost, slightly higher-performance version of our popular Dual MC33926 Motor Driver Shield for Arduino.
With a 4.5 V to 28 V operating range and the ability to deliver up to a few amps per motor, the TB9051FTG is great for a huge range of small hobby and toy motors that you might have available in your parts box or classroom.
For those who don't need all the power that the TB9051FTG can support, we also have the smaller (and lower cost) Dual MAX14870 Motor Driver Shield for Arduino.
As usual, we have an introductory discount to go with this new product announcement. Be among the first 100 customers to use coupon code TB9051SHIELD (click to add the coupon code to your cart) and get up to three units for just $9.97 each. The introductory coupon for the single TB9051FTG carrier is still available, along with some discounts for other products we have introduced this year; you can see all the coupons that are not used up yet on our specials page.
0 comments
Post a comment