Pololu High-Power Motor Driver 18v25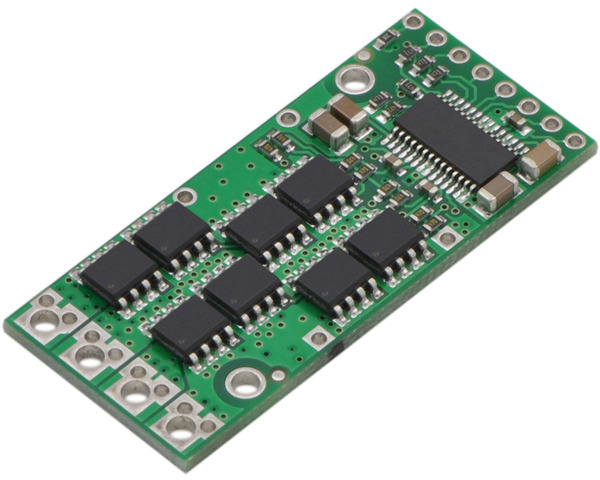 This discrete MOSFET H-bridge motor driver enables bidirectional control of one high-power DC brushed motor. The little 1.8×0.8-inch board supports a wide 5.5 to 30 V voltage range and is efficient enough to deliver a continuous 25 A without a heat sink.

Compare all products in Pololu High-Power Motor Drivers.
File downloads
Datasheet for the IRF8734PBF MOSFET.

This DXF drawing shows the locations of all of the board's holes.
Recommended links
Meindert Norg from Norg Consulting (www.NorgConsulting.com) demonstrates his active magnetic bearing, Tripod Floater. The closed-loop system uses three Pololu 18v15 high-power motor drivers as PWM amplifiers to power the magnetic coils that keep the module floating beneath the metal plate. By Meindert Norg, August, 2009. February, 2010 update: the Tripod Floater is now wireless! Version 2.2 video