Surplus Hitec HS-5475HB Servo no Electronics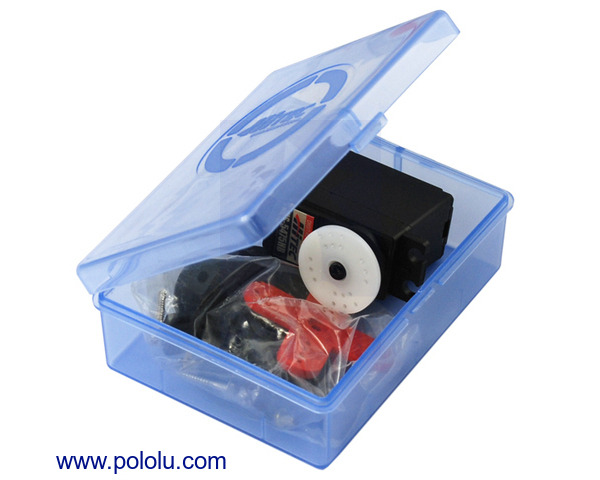 These are Hitec HS-5475HB servos with the electronics removed. These units can easily be converted to continuous-rotation gearmotors by clippling off the rotation limitation nub on the output gear. The output shaft is supported by two ball bearings, and the geartrain uses four heavy-duty Karbonite gears.
Note: This servo contains no control electronics and no feedback potentiometer. When you purchase this product, you get the servo housing, motor, gears, and accessories. You can use the servo motor as a standard DC motor connected to a gearbox, or you can add your own servo control electronics and feedback potentiometer.
Specs
Speed at 4.8 V with no load: 0.23 sec per 60 degrees (44 RPM if modified for continuous rotation)
Speed at 6 V with no load: 0.18 sec per 60 degrees (54 RPM if modified for continuous rotation)
Torque at 4.8 V: 61.1 oz-in / 4.4 kg-cm
Torque at 6 V: 76.4 oz-in / 5.5 kg-cm
Current with no load and no control electronics at 6 V: 90 mA
Stall current at 6 V: 1.1 A
Size (L x W x H): 1.52" x 0.77" x 1.41" / 38.8 mm x 19.8 mm x 36.0 mm
Weight: 1.14 oz / 32.3 g (this is the actual weight of the unit including the small white servo horn and with electronics removed)
Includes
Servo housing with pre-installed:

3-pole ferrite motor
Four durable Karbonite gears (each with four times the strength of a standard nylon gear)
Two ball bearings on the output shaft for greatly reduced internal friction
Round servo horn (0.95"/24 mm, white disk)

Four grommets
Four brass eyelets
Four round, flanged, phillips head screws 1.5 × 14 mm
One large round servo horn (1.76"/45 mm, black disk)
One large X servo horn (1.73"/ 44 mm end to end, red)
One small straight servo horn (1.30"/33 mm end to end, black)
One large straignt servo horn (2.32"/59 mm end to end, black)
These servos have the standard Hitec output shafts with 24-tooth splines while our assortment of Futaba wheels and sprockets are intended for output shafts with 25-tooth splines. However, plastic on the wheels is soft enough to allow the Futaba wheels and sprockets to be forced (without too much effort) onto the Hitec servo output shaft.
People often buy this product together with: