3-Channel Wide FOV Time-of-Flight Distance Sensor for TI-RSLK MAX Using OPT3101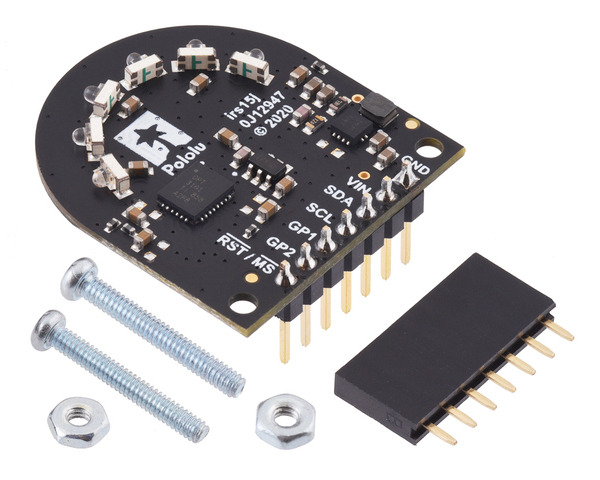 This board is a 3-channel time-of-flight proximity and distance sensor module based on the OPT3101 IC from Texas Instruments. It emits infrared light in one of three selectable directions with its six integrated LEDs and measures distance by measuring the time delay of the reflected signal. Distance measurements can be read through a digital I²C interface. The module is designed to mount to the front of the TI-RSLK MAX robot. The combined field of view of the three sensing zones is almost 180 degrees, and the maximum range is about one meter.

Compare all products in TI Robotics System Learning Kit MAX (TI-RSLK MAX) Parts and Accessories or

Lidar/Time-of-Flight Range Finders.
File downloads
Recommended links
This library for Arduino makes it easy to interface with the OPT3101 time-of-flight-based distance sensor from Texas Instruments.

This MicroPython library from Pololu distributor MC Hobby implements most of the features of our OPT3101 library for Arduino. The page includes example wiring and usage instructions for their PYBStick RP2040 as well as a Raspberry Pi Pico, but the code appears to be generic MicroPython that should also work on other boards without modification.