Pololu 3.3V, 500mA Step-Down Voltage Regulator D24V5F3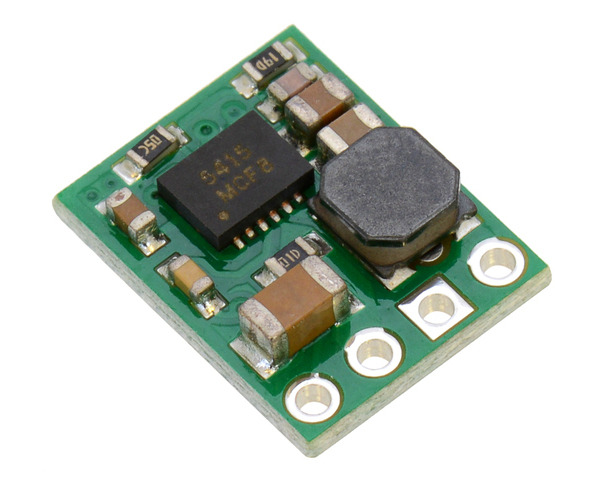 The compact (0.4″ × 0.5″) D24V5F3 synchronous buck voltage regulator takes an input voltage of up to 36 V and efficiently reduces it to 3.3 V while allowing for a maximum output current of 500 mA. This regulator offers typical efficiencies between 80% and 90% and has a very low dropout, so it can be used with input voltages as low as a few hundred millivolts above 3.3 V. The pins have a 0.1″ spacing, making this board compatible with standard solderless breadboards and perfboards.
Alternatives available with variations in these parameter(s): output voltage Select variant…

Compare all products in D24V5Fx Step-Down Voltage Regulators.
Dimensions
| | |
| --- | --- |
| Size: | 0.4″ × 0.5″ × 0.1″1 |
| Weight: | 0.6 g1 |
General specifications
| | |
| --- | --- |
| Minimum operating voltage: | 3.4 V2 |
| Maximum operating voltage: | 36 V |
| Maximum output current: | 500 mA |
| Output voltage: | 3.3 V |
| Reverse voltage protection?: | N |
| Maximum quiescent current: | 0.2 mA3 |
Identifying markings
| | |
| --- | --- |
| PCB dev codes: | reg16a |
| Other PCB markings: | 0J7990, blank white box |
Notes: