A4988 Stepper Motor Driver Carrier, Black Edition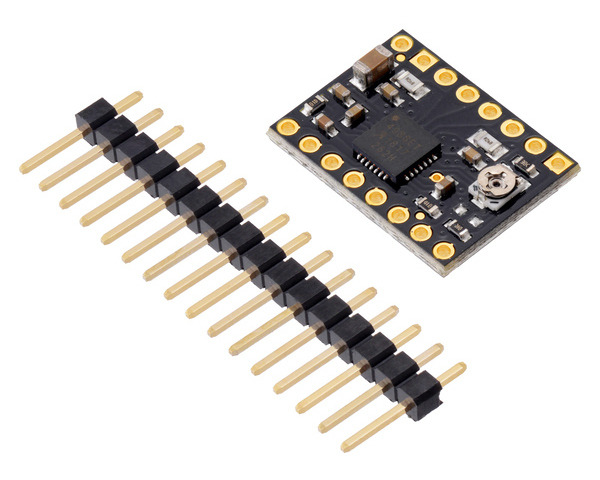 Our Black Edition A4988 stepper motor driver carrier is a higher-performance drop-in replacement for the original A4988 stepper motor driver carrier. It features a four-layer PCB for better thermal performance, allowing the A4988 microstepping bipolar stepper motor driver to deliver approximately 20% more current than our two-layer (green) version. Like our original carrier, the Black Edition offers adjustable current limiting, over-current and over-temperature protection, and five different microstep resolutions. It operates from 8 V to 35 V and can deliver up to 2 A per coil with sufficient additional cooling. This board ships with 0.1″ male header pins included but not soldered in.
Compare all products in A4988 Stepper Motor Driver Carriers, Black Edition or
16-pin Stepper Motor Drivers.
File downloads
This DXF drawing shows the locations of all of the board's holes. It applies to both the green (md09b) and black (md09c) editions of the A4988 stepper motor driver carrier.
Recommended links
A short video showing the in-house assembly of a panel of Black Edition A4988 stepper motor driver carriers on our Samsung SM421F pick and place machine.
A customer-made module for using the Pololu A4983/A4988 Stepper Motor Driver Carrier in Kicad. By Jared Harvey, October 2011.
This Arduino library, written by forum member laurb9, allows users to control a stepper motor with our A4988, DRV8825, or DRV8834 carriers. The library has functions that enable users to set rotational rate, change microstepping mode, and specify how many steps to take or specify how many degrees to rotate.