High-Power Simple Motor Controller G2 18v15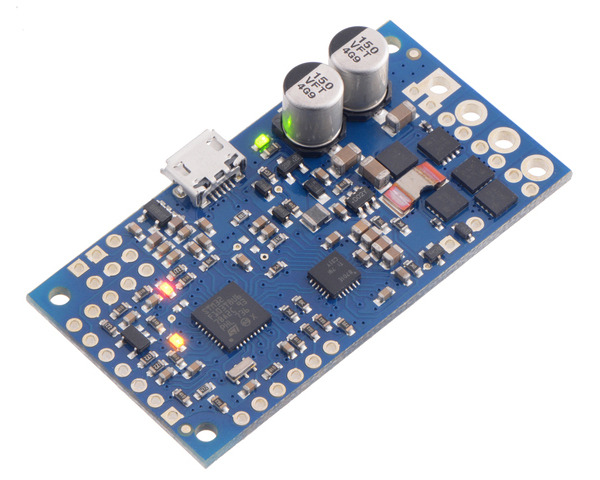 This powerful motor controller makes basic control of a brushed DC motor easy, with quick configuration over USB using our free software. It supports five control interfaces: USB, TTL serial, I²C, analog voltage (potentiometer), and hobby radio control (RC). This version offers a wide 6.5 V to 30 V operating range and can deliver continuous output currents up to 15 A without a heat sink. Male headers and terminal blocks are included but not soldered, allowing for custom installations.
Alternatives available with variations in these parameter(s): version Select variant…

Compare all products in Pololu Simple Motor Controllers or

Pololu G2 Simple Motor Controllers.
Dimensions
| | |
| --- | --- |
| Size: | 2.1″ × 1.1″ × 0.42″1 |
| Weight: | 7.5 g1 |
General specifications
Motor channels:
1
Control interface:
USB; non-inverted TTL serial; I²C;
RC servo pulses; analog voltage2
Minimum operating voltage:
6.5 V
Maximum operating voltage:
30 V3
Continuous output current per channel:
15 A4
Maximum PWM frequency:
22.5 kHz
Maximum logic voltage:
3.3 V5
Reverse voltage protection?:
Y
Version:
G2 18v15 (30 V max, 15 A max continuous)
Connectors soldered?:
N
Identifying markings
| | |
| --- | --- |
| PCB dev codes: | umc08a |
| Other PCB markings: | 0J11672, blank white box |
Notes:
Without included hardware.
Autodetects baud rates between 1200 and 500,000 bps, or can be set to any fixed baud rate in this range.
Absolute maximum; higher voltages can permanently destroy the motor driver. Recommended maximum is approximately 24 V, which leaves a safety margin for ripple voltage on the supply line. Not recommended for use with 24V batteries.
Typical results at room temperature running at 90% duty cycle.
All digital inputs are 5V tolerant.