Screw Terminal Block: 2-Pin, 5 mm Pitch, Side Entry (4-Pack)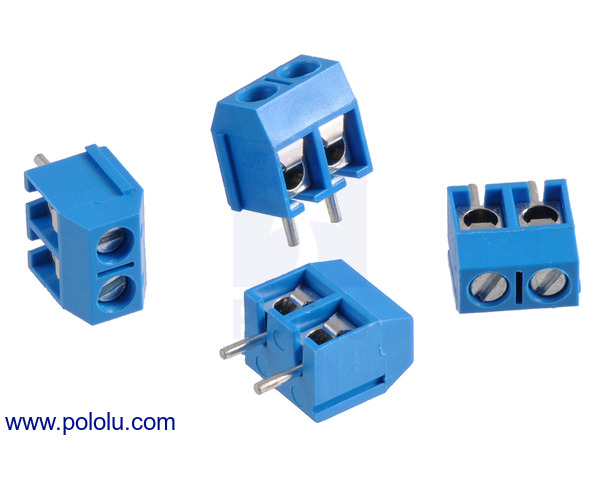 These side-entry screw terminal blocks have a pitch of 5 mm (0.197″). Each block has two terminals for the stripped ends of 22 – 14 AWG wires, and units can slide together to make longer strips. They are rated for 250 V, 16 A (UL) and ship in packs of four.
Alternatives available with variations in these parameter(s): pins spacing orientation Select variant…

Compare all products in Stackable Screw Terminal Blocks.
Overview
These terminal blocks have terminals that hold and release wires through the simple adjustment of a screw, allowing you to easily make temporary connections to a PCB. The 2-pin and 3-pin units each feature a ridge on one side and a slot on the other, which lets them slide and lock together to form arbitrarily long strips with a pitch of 3.5 mm or 5 mm. Each terminal block is available in two orientations: side-entry and top-entry.
The following short video gives a quick overview of how to install these terminal blocks onto our boards:
Details for item #2440
This product is a four-pack of 5mm-pitch, two-pin, side-entry terminal blocks. The more general dimension diagram for an XX-pin version of this screw terminal block is shown below.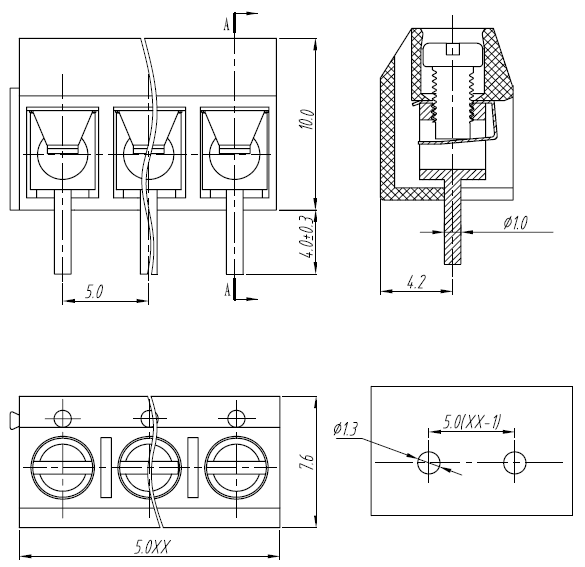 Screw terminal block: 5 mm pitch, side entry.
Voltage rating (UL/IEC): 250/250 V
Current rating (UL/IEC): 16/24 A
Contact resistance: 20 mΩ
Wire gauge: 22-14 AWG
Wire strip length: 5 mm
Other terminal block options
We carry several different sizes and styles of terminal blocks in addition to these stackable screw terminal blocks; the picture below shows a side-by-side comparison: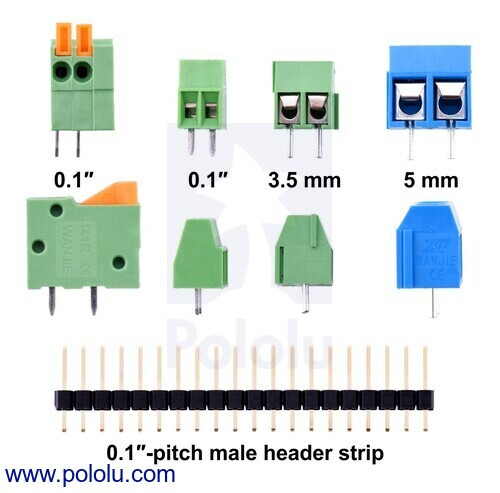 Side-by-side comparison of our different terminal blocks with a 0.1″ male header strip for size reference. From left to right: 0.1″ screwless, 0.1″ screw, 3.5 mm screw, and 5 mm screw.
Alternatives available with variations in these parameter(s): pins spacing orientation Select variant…
0.1″ screw terminal, which can be used in place of standard 0.1″male and female headers on many PCBs; the only available orientation is side-entry:
Alternatives available with variations in these parameter(s): pins Select variant…
People often buy this product together with: