These side-entry screwless terminal blocks have a pitch of 0.1″ (2.54 mm). Each block has two spring terminals that automatically grip the stripped ends of inserted 26 – 18 AWG wires, allowing for easy, temporary connections to your PCB, and units can be combined to make longer blocks. They are rated for 150 V, 2 A (UL) and ship in packs of three.
Compare all products in Terminal Blocks.
These wire-to-board terminal blocks automatically grip inserted wires, and release when their levers are pressed with a fingernail or small screwdriver. These blocks let you easily make temporary connections to your PCB.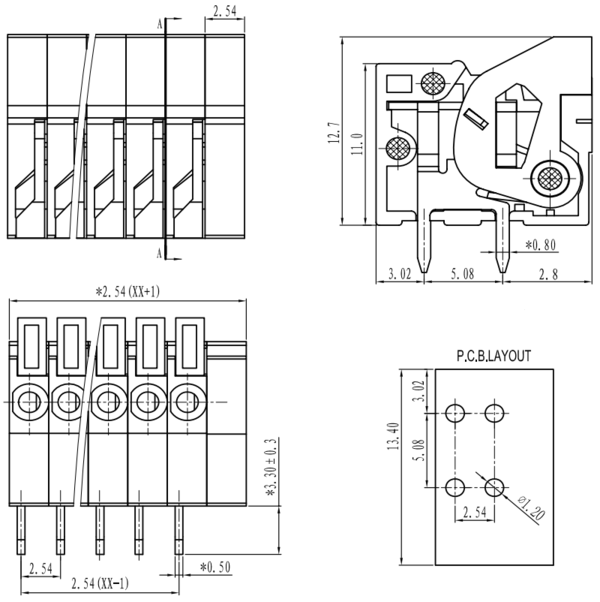 Screwless terminal block: 0.1" pitch, side entry.
Specifications:
Voltage rating (UL/IEC): 150/130 V
Current rating (UL/IEC): 2/6 A
Contact resistance: 20 mΩ
Wire gauge: 26-18 AWG
Wire strip length: 11 mm
Reconfiguring the terminal blocks
It is possible to reconfigure these terminal blocks by combining them to make larger ones or to removing segments to make them shorter. To combine two terminal blocks, you must first pry off the end cap from one. With the end cap removed, there is nothing to hold the last lever in place, so be careful not to lose it!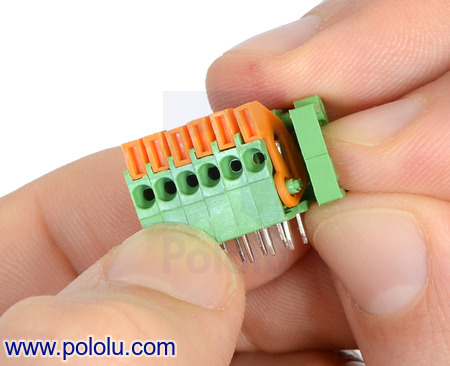 Removing the end cap from a 6-pin side-entry screwless terminal block.
Once the end cap is removed, you can line up the newly exposed prongs with the holes on the side of another terminal block and press them together. The following two pictures show combining two 6-pin side-entry screwless terminal blocks into a single 12-pin block:
| | |
| --- | --- |
| Attatching another screwless terminal block to the first in place of the now-removed end cap. | We have now combined two 6-pin side-entry screwless terminal blocks into a single 12-pin terminal block. |
People often buy this product together with: