Orangutan SVP-324 Robot Controller (partial kit)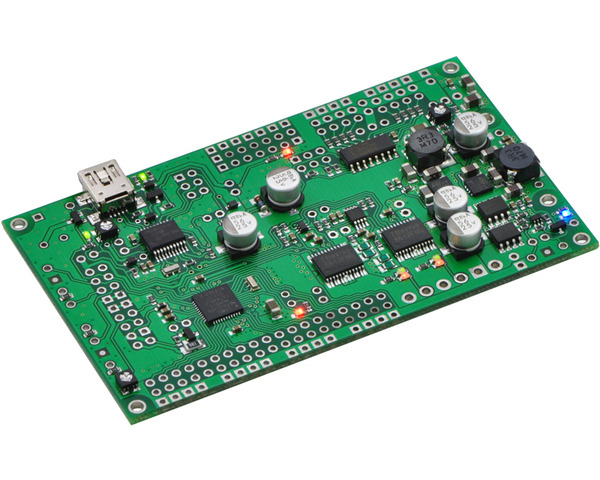 This partial kit gives you the flexibility make a customized Orangutan SVP-324 with the headers and other through-hole components that best suit your project. All of the surface-mount parts are pre-soldered, including an ATmega324PA AVR microcontroller with 32 KB flash and 2 KB RAM, but nothing is soldered to the through-hole pads. The partial kit includes male and female versions of all of the header pins. An LCD is included.
Documentation and other information
File downloads
This bundle contains all the Pololu software you need to get started programming AVRs in Windows: the Pololu AVR C/C++ Library, the Pololu USB AVR Programmer drivers and software, and the Pololu Orangutan SVP drivers. We recommend installing Atmel Studio 7.0 before installing this bundle.
This executable installer contains the drivers you need to use the Orangutan SVP in Windows.
This printable quick-reference diagram identifies all the interactive components on the Orangutan SVP, including the pins, pots, LEDs, and pushbuttons.
This is a sample AVR Studio 4 project that will blink an LED on an Orangutan SVP-324.
This is a sample AVR Studio 4 project that will blink an LED on an Orangutan SVP-1284.
A Spanish version of the Orangutan SVP robot controller user's guide, provided by customer Jaume B.
Recommended links
A free, open-source suite of development tools for the AVR family of microcontrollers, including the GNU GCC compiler for C/C++.
The older version of Atmel's free integrated development environment (IDE) for AVRs, which is no longer supported by Atmel.
Atmel's product page for the ATmega324PA.
Atmel's product page for the ATmega1284P.
The web site for AVR Libc, which is the standard library of functions that you can use with C and C++ on the AVR.
Documentation for GCC, including the AVR GCC C/C++ compilers.
The A-Star and Orangutan discussion section of the Pololu Robotics Forum.
AVR community with forums, projects, and AVR news.