Pololu Dual Serial Motor Controller (kit)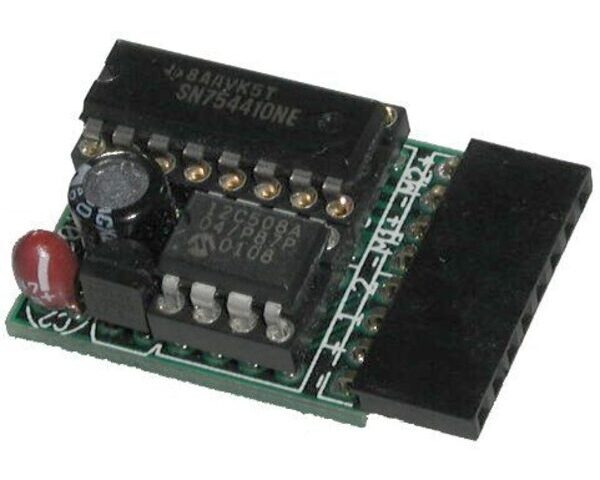 The dual serial motor controller allows any microcontroller or computer with a serial port (external RS-232 level converter required) to drive two bidirectional DC motors with full 7-bit speed-control. Multiple motor controllers can be controlled with a single serial line, and they are compatible with our other serial motor controllers and serial servo controllers. This unit is available assembled as well.

Compare all products in Old and Discontinued Serial Motor Controllers.
This product is discontinued and has been replaced by the next-generation Qik 2s9v1 Dual Serial Motor Controller, which is better in virtually all respects.
Pololu's popular dual serial motor controller will get your robot running in a snap. The compact module can individually control two motors, and you can daisy-chain multiple units to control up to 62 motors with one serial line. This dual motor controller provides up to 2 A to a single motor, or 1 A each to two motors. The motor supply can be 5.6 – 25 V, making the unit a great option for various small DC motors. If you happen to burn out the TI SN754410 motor driver chip, the through-hole design allows for a quick replacement.
| | |
| --- | --- |
| Control two 1-Amp motors | Control one 2-Amp motor |
Using one serial output from your microcontroller, you can independently set each motor to go forward or backward at any of 127 speeds, coast, and with the new version, brake. The dual serial motor controller is compatible with our serial servo controllers and serial motor controllers, so you can control an almost unlimited number of motors and servos with one serial line. For a smaller unit, see our micro dual serial motor controller.
Note: The Pololu dual serial motor controller comes either as a kit or pre-assembled. To use the motor controller in robotics projects, you need to connect it to your own motors and robot controller.
Device specifications
PCB size: 1.00 × 0.85"
Motor ports: 2
Speeds: 127 forward, 127 backward, plus off.
Max. current: 1 A per motor (continuous)
Supply voltage: 5.6-25 V
Data voltage: 0 and 5 V
PWM frequency: 600 Hz
Serial baud rate: 1200-19200 (automatically detected)
Module Pinout
| | |
| --- | --- |
| Pin | Function |
| - | ground (0V) |
| + | positive supply (5.6-25V) |
| 1 | reset |
| 2 | serial control input |
| M1- | motor 1, negative output |
| M1+ | motor 1, positive output |
| M2- | motor 2, negative output |
| M2+ | motor 2, positive output |
Order a dual serial motor controller
People often buy this product together with: