Pololu Wheel 42×19mm Pair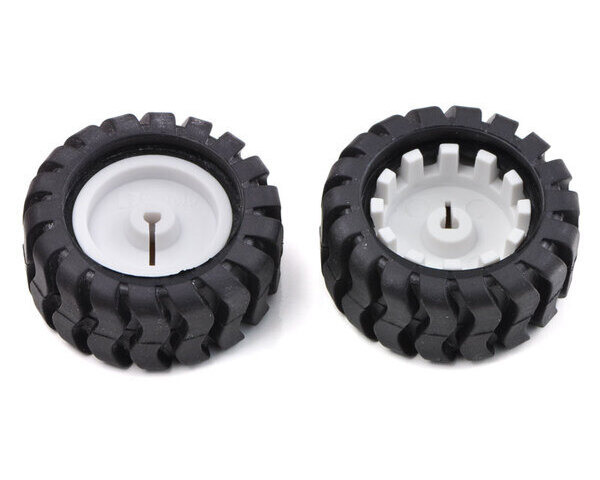 These white plastic wheels have rubber tires measuring 42 mm (1.65″) in diameter and press-fit onto the 3mm D output shafts on many of our motors, including our micro metal gearmotors and our mini plastic gearmotors with 3mm D-shafts. Teeth on the hub optionally allow a reflectance sensor to be used for encoder feedback. These wheels are sold in pairs.
Compare all products in Pololu Wheels or
Pololu Wheels and Tracks.
- 22 March 2017

Customer Thomas Broughton made a line follower robot controlled by a Raspberry Pi that directly connects to a Pololu QTR-8RC reflectance sensor...

- 5 June 2015

Many of the engineers and robot enthusiasts here at Pololu competed in the LVBots 2015 line following competition. (For house rules and details...

- 18 April 2014

This PID line follower, originally featured in this Let's Make Robots post by user Enigmerald, uses our 5" Robot Chassis along with 30:1 MP micro...