Posts by Mark
You are currently viewing a selection of posts from the Pololu Blog. You can also view all the posts.
Popular tags: community projects new products raspberry pi arduino more…
Posted by
Mark
on 12 March 2018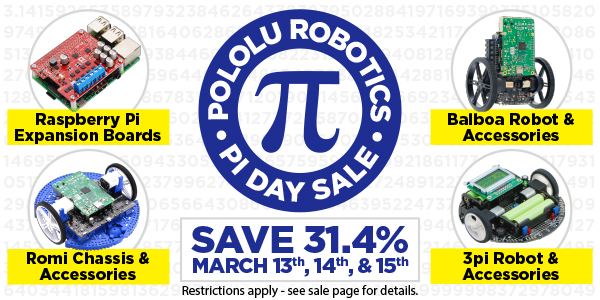 Pi Day is nearly upon us, and to celebrate, we are discounting a variety of exciting products that can be loosely associated with "Pi". The sale starts tonight at 8:36 PM PDT and runs through the end of the 15th. And in case you are wondering about the strange start time, that makes the sale 3.14159 days long in yet another tribute to this wonderful irrational number (if it bothers you that 3.14159 is not irrational, you can pretend that the sale lasts exactly π days).
Check out the sale page for more information (and check out piday.org for more information on Pi Day)!
Posted by
Mark
on 28 February 2018

TI Robotics System Learning Kit banner courtesy of university.ti.com.
As we posted a few weeks ago, Texas Instruments recently announced that they were launching a new curriculum designed for university students and based upon our Romi robot platform.
Today, element14 announced pre-order sales of the three kit options. We hear interest has been very strong, so make sure to reserve yours right away if you want to get one from the initial production run. If you do get one, let us know what you think of it!