Updated product: A-Star 32U4 Mini SV
Posted by
Jan
on 10 May 2018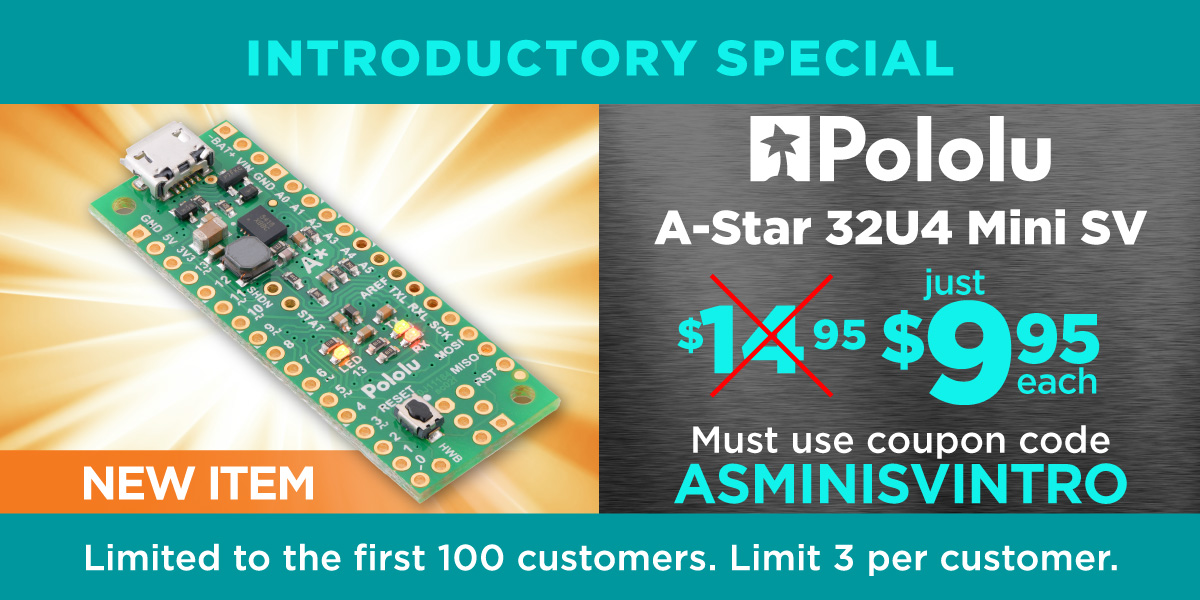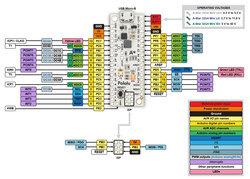 A-Star 32U4 Mini pinout diagram.
I think of our new A-Star 32U4 Mini SV as more of an update than a genuinely new product. For those of you not already familiar with our A-Star 32U4 Minis, they are a series of ATmega32U4-based, USB-programmable controllers with integrated switching regulators that offer operating voltage ranges not available on typical Arduino-compatible products; the "SV" variant features a step-down converter that enables efficient operation with inputs as high as 40 V. The slight PCB update for this latest product was done primarily for manufacturing reasons (e.g. reset button footprint change, addition of a test point, and switching to an ENIG finish that has worked better for us for double-sided assembly), but I figured that while we were updating all our internal records for the new PCB, we might as well also upgrade the regulator.
There's a difficulty to making small improvements to products when we have hundreds of distributors around the world since even if we clear out our inventory of older versions before shipping newer units, we cannot control the inventory at distributors' warehouses. We're all usually tolerant of products being a little better than advertised, but when we try out a product, and then buy another one, and it ends up being worse than the one we already had, it just doesn't feel right. (That's one reason we sometimes do not reveal exact components we use, to avoid over-specifying some aspect of a product that we feel is not that important and that we do not want to commit to.) Once the regulator was different (and better!) enough to merit changing the product specifications, we needed to change the product number, and hence we have a new product.
The regulator change is from the ISL85415 to the ISL85418, both made by Renesas (which acquired Intersil). The ISL85415 was the first of a great regulator family by Intersil, and they expanded the family with several pin-compatible versions with various current specifications. These new parts could also operate to 40 V instead of the 36 V of the original ISL85415, but even as various aspects of the datasheets got updated, the maximum voltage rating on the ISL85415 in particular did not.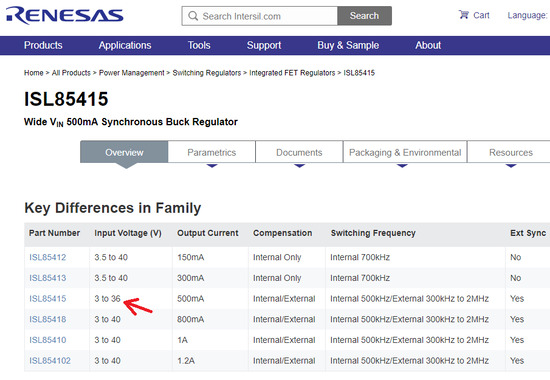 Renesas website screen capture showing ISL85415 is only part in its family with 36 V maximum input.
I asked our Intersil contact about why only the ISL85415 wasn't rated to 40 V. It sounded like it was getting made on the same process as the other parts, and that the higher voltage rating of the later parts in the family was more the result of better characterization (and thus confidence) in the process than in any modifications to the process. In other words, new ISL85415 parts can probably do 40 V just like the other parts, and the older ISL85415 parts probably the same; they just weren't confident about calling them 40 V parts then. But who knows what the inside story is. Maybe they did tweak their recipes a bit, and once they had parts out in the world with the 36 V spec, they didn't want to change it without changing the part number, just like we couldn't just keep our old A-Star part number and also talk about the higher maximum input voltage.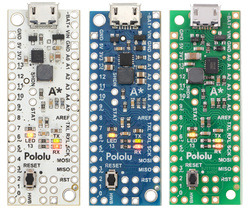 A-Star 32U4 Mini ULV, LV, and SV.
In case you're wondering why we didn't just put the even better ISL85410 or ISL854102 with 1.0 A and 1.2 A outputs on the new board, it's because the performance limit moved more to the inductor, and even if the better regulator chip takes up the same space, we would need a bigger inductor to take advantage of that. And the A-Star Minis are pretty packed designs, so there's not much room for a bigger inductor.
So, to make a long story short, the main new feature of the updated A-Star 32U4 Mini SV is that it can now take up to 40 V input and give you up to 800 mA to work with. This chart shows you what the new regulator (in darker green) can do compared to the older one (lighter green) on the A-Star Mini. It looks like the old one already provided well over its 500 mA specification.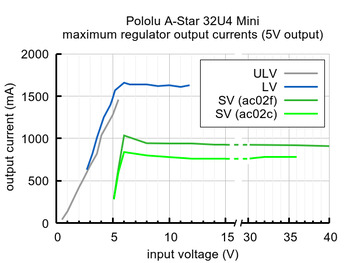 Typical maximum output current of the regulators on the A-Star 32U4 Mini boards.
To make this new product a little more exciting, we reassessed our costs and cut some of our margins in keeping with our push this year to be more competitive in our manufacturing. We have reduced the unit price from $19.95 to $14.95. And as usual for our new product releases this year, we're offering an extra introductory discount: use coupon code ASMINISVINTRO to get up to three units for just $9.95. (Click to add the coupon code to your cart.) Our promotion banner shows the usual limit for the first 100 coupon uses, but since we're also having our Arduino Day sale, we're removing that restriction for the duration of the sale. If we run out of stock during the sale, you can still backorder with the discount, and we should be able to catch up with production within a few days.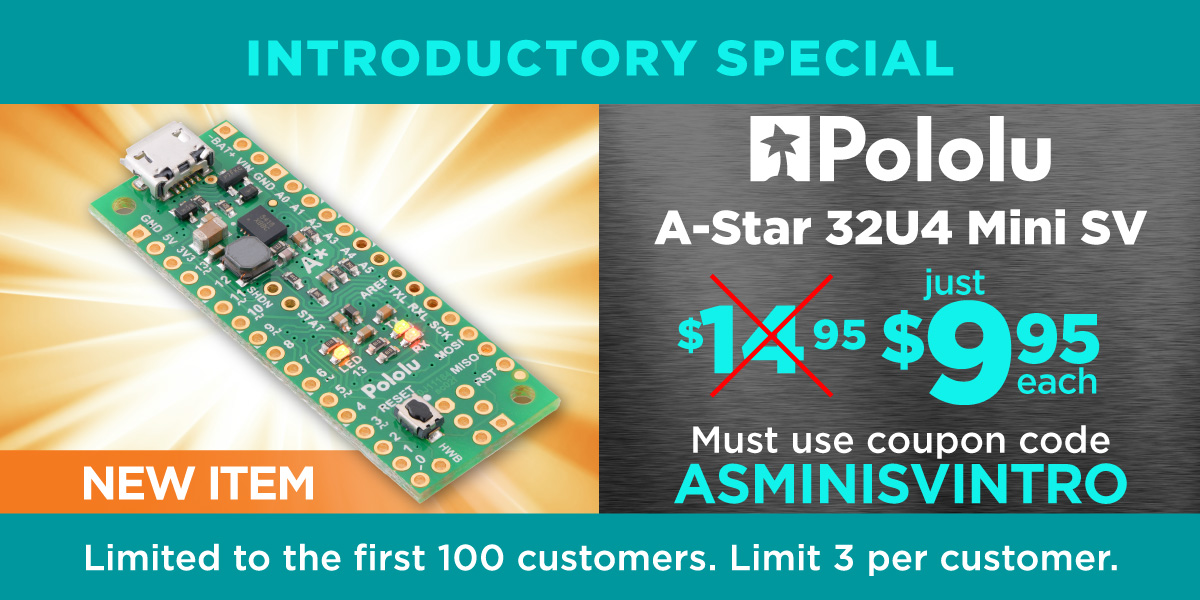 0 comments
Post a comment