New product: TB67H420FTG Dual/Single Motor Driver Carrier
Posted by
Jan
on 9 May 2018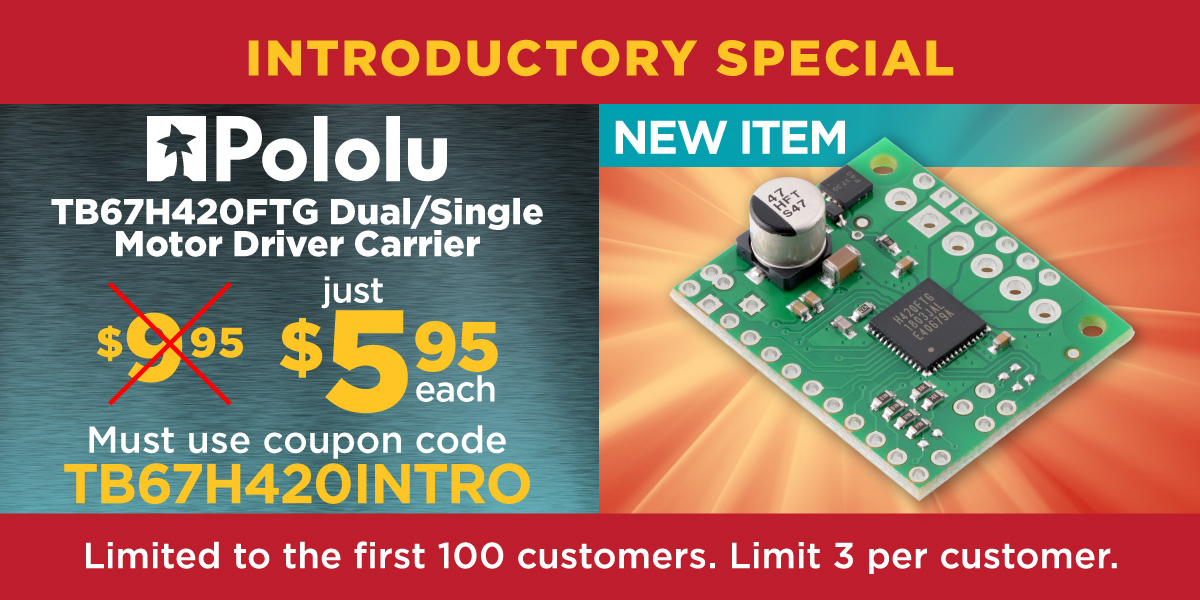 Hey! We have a new dual motor driver carrier for Toshiba's exciting TB67H420FTG that offers quite the power jump from the TB6612FNG we popularized over a decade ago. This chip has a recommended operating range of 10-47 V and can deliver peaks of 4.5 A per channel. In our tests on this carrier, without additional heat sinking or airflow, the maximum continuous current is about 1.7 A per channel.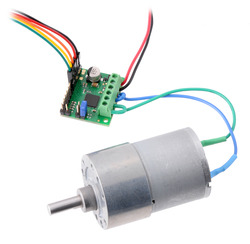 TB67H420FTG Dual/Single Motor Driver Carrier driving a motor in single-channel mode.
One of the most common questions we get about our motor drivers is whether the outputs can be paralleled to drive a single bigger motor. The TB67H420FTG specifically has that feature built-in so that you can safely do that while only requiring control signal connections for one channel. This brings the available current for single-motor operation to 9 A peak and about 3.4 A continuous.
The TB67H420FTG has a maximum supply voltage of 50 V, making it one of the highest-voltage drivers we have available. Please note that we populated with 50 V capacitors on the supply line, so there is less margin there than on our usual products if you want to push the upper voltage limits of this chip. As with most of our carriers, we also added reverse voltage protection. The MOSFET we use for that is a 40 V max MOSFET, so the maximum reverse voltage that it protects you from is that same 40 V. If you're wondering why we didn't use higher-voltage parts, it's because the next standard voltages are much higher, 100 V in the case of the capacitors. Getting the same capacitance at that rating would require bulkier, more expensive capacitors for almost no benefit. I'm telling you here in case you are one of those people who like to put 55 V on a 50 V max part just to see what will happen.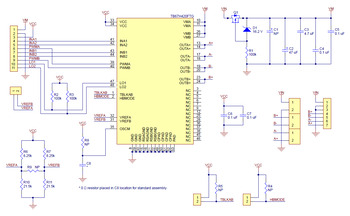 Schematic diagram of the TB67H420FTG Dual/Single Motor Driver Carrier.
Be among the first 100 customers to use coupon code TB67H420INTRO (click to add the coupon code to your cart) and get up to three units at the introductory special price of $5.95 each. The first batches are just coming out of production, so even if the available stock goes to zero, you can still backorder with the coupon price and chances are that we will be able to fill your order the same day.
2 comments
Post a comment