37D mm metal gearmotors with encoders and end caps
Posted by
Ben
on 3 November 2015
Our 37D mm metal gearmotors now have fitted plastic end caps over their encoders that neatly protect the assembly and keep stray objects clear of the magnetic disc. The pictures below show the previous version (without end cap) next to one of the new ones:
The end cap is easily removable if you need to access the encoder or want a few more millimeters of clearance for your gearmotor, but there is a little bit of base plastic that will remain (as shown in the picture below), so removing the end cap does not quite make these new ones identical to the previous versions.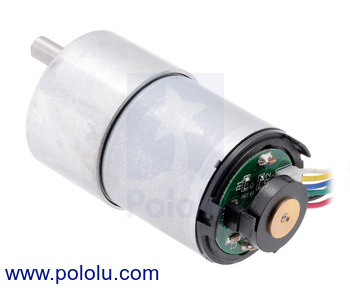 37D mm metal gearmotor with 64 CPR encoder (with end cap removed).
These gearmotors are available in six different gear ratios and with or without encoders, and we also carry the motor and encoder assembly by itself with no gearbox. The following table shows all of our 37D mm metal gearmotor options:
8 comments
Post a comment