New products: 12V versions of the 25D mm metal gearmotors
Posted by
Ben
on 7 August 2015
Our 25D mm metal gearmotors are now available with 12 V motors in three power levels: High-Power (HP 12V) (5.5 A stall), Medium-Power (MP 12V) (2.1 A stall), and Low-Power (LP 12V) (1.1 A stall). The new 12 V LP motor can deliver approximately the same power as its 6 V counterpart, but since the voltage is doubled, it only requires half the current to do so, which means you can control it with lower-current, higher-voltage motor drivers like the DRV8801 or MAX14870 motor driver carriers. At their respective nominal voltages, the 12V HP motor has nearly the same free-run speed as the 6V HP motor, but it produces approximately twice the torque, which in turn means approximately double the output power. The 12V MP motors fall nicely between the 12V LP and HP options, offering a significantly more power than the LPs without the large current draw of the HPs. All five motor variants are the same size, which makes it easy to swap one for another if your design requirements change.
As with our original 6 V options, we have paired these new motors with a variety of gearboxes spanning gear ratios from 4.4:1 through 378:1. The result is 26 new versions, bringing our total selection of 25D mm metal gearmotors to more than 50 options. Unfortunately, we do not have encoder options for the 12 V motors yet, but we should have those later this year.

Keep in mind that stalling or overloading gearmotors can greatly decrease their lifetimes and even result in immediate damage. For these gearboxes, the recommended upper limit for instantaneous torque is 200 oz-in (15 kg-cm), and we strongly advise keeping applied loads well under this limit. Stalls can also result in rapid (potentially on the order of seconds) thermal damage to the motor windings and brushes, especially for the versions that use high-power (HP) motors; a general recommendation for brushed DC motor operation is 25% or less of the stall current.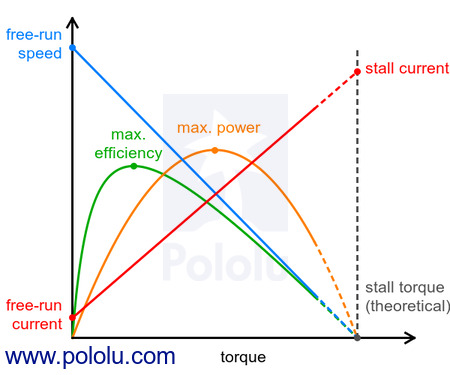 Brushed DC motor performance curves.
We list stall torques and currents for our gearmotors because these are end points of approximately linear DC motor performance curves shown above, and with them you can determine how the motor will behave as the voltage or load changes. For more information about how to generate specific performance curves for our gearmotors from the specifications we provide, see the first frequently asked question on any of the motor product pages.
0 comments
Post a comment