New products: Discrete addressable through-hole RGB LEDs
Posted by
David
on 9 June 2014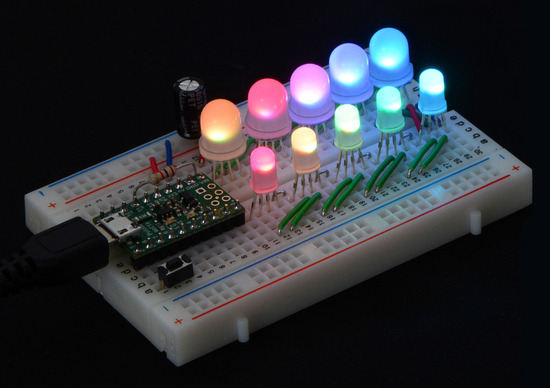 A chain of addressable RGB LEDs (#2535 and #2536) on a breadboard, controlled by an A-Star 32U4 Micro.
At first glance, these new LEDs look like everyday through-hole RGB LEDs, but they are hiding something very special inside: a built-in WS2811 LED driver that lets you chain them together and individually control them all with a single digital output from a microcontroller. The communication protocol of these LEDs is very similar to that of our WS2812B-based LED strips and Adafruit's NeoPixels (such as those on the Adafruit NeoPixel Shield, which we just started carrying last week), so there is a variety of sample code available for the Arduino, AVR, and mbed microcontroller platforms to help you make your project start blinking quickly.
We offer these LEDs in two different sizes: 5 mm and 8 mm.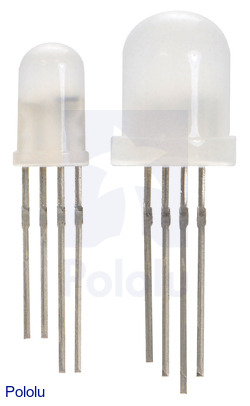 Two different sizes of addressable RGB LED. From left to right, their diameters are: 5 mm (#2535) and 8 mm (#2536).
12 comments
Post a comment