Addressable RGB LEDs Based on the SK6812/WS281x
The SK6812 LED driver is a newer alternative to the WS2812B LED driver. The two are very similar, sharing the same interface and color order, so the SK6812 can generally be used as a drop-in replacement for the WS2812B or chained together with the WS2812B. The main difference between these drivers is that the SK6812 has voltage-independent color and brightness over a wide voltage range, which means that the colors of the LEDs should not be affected by a drop in the supply voltage as much as they are on the WS281x.

Compare all products in this category
Subcategories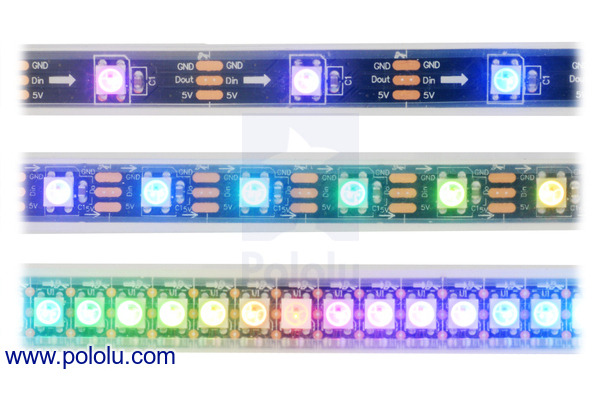 These addressable RGB LED strips feature integrated SK6812 or WS2812B LED drivers and can be controlled with a single I/O pin using a high-speed one-wire protocol.
---
Products in category "Addressable RGB LEDs Based on the SK6812/WS281x"