MCP263 Dual 60A, 34VDC Advanced Motor Controller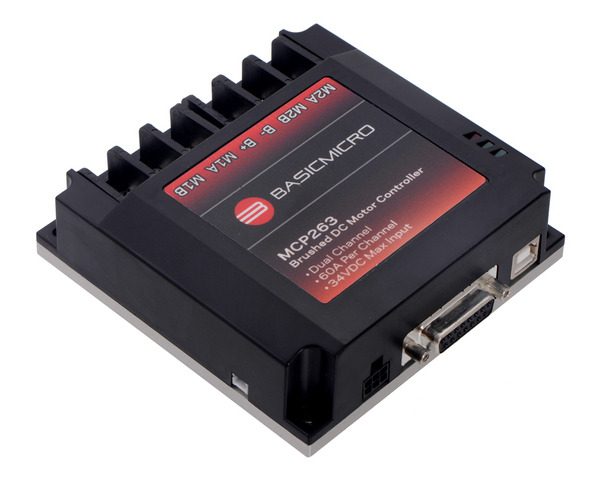 The MCP motor controllers from Basicmicro (formerly Ion Motion Control) can control a pair of brushed DC motors using USB serial, TTL serial, RS-232 serial, CAN bus, RC, or analog inputs. Integrated dual quadrature decoders make it easy to create a closed-loop speed control system, and advanced features including internal scripting support and user-configurable I/O make it suitable for standalone applications. This version can supply a continuous 60 A per channel at voltages from 10 V to 34 V.
Alternatives available with variations in these parameter(s): continuous output current per channel maximum operating voltage Select variant…

Compare all products in MCP Advanced Motor Controllers.
- 19 April 2019

DB15 Screw Terminal Adapter for MCP23X/26X Advanced Motor Controllers with included hardware. DB15 screw terminal adapter mated to an MCP266...

- 17 November 2018

RoboClaw 2×60AHV, 60VDC Motor Controller. We are excited to offer eight new powerful motor controllers from Basicmicro (formerly Ion Motion...