MCP263 Dual 60A, 34VDC Advanced Motor Controller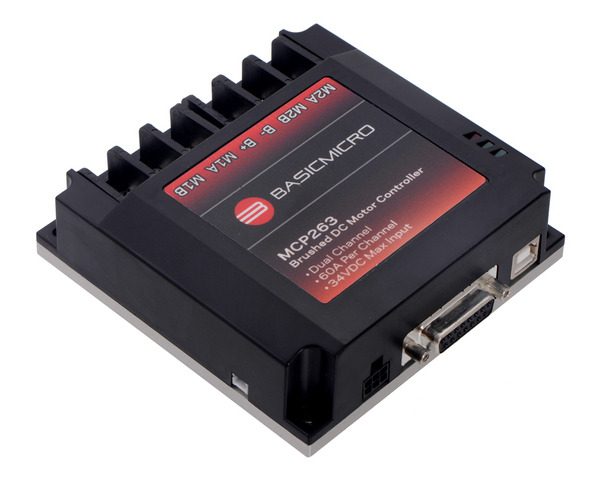 The MCP motor controllers from Basicmicro (formerly Ion Motion Control) can control a pair of brushed DC motors using USB serial, TTL serial, RS-232 serial, CAN bus, RC, or analog inputs. Integrated dual quadrature decoders make it easy to create a closed-loop speed control system, and advanced features including internal scripting support and user-configurable I/O make it suitable for standalone applications. This version can supply a continuous 60 A per channel at voltages from 10 V to 34 V.
Alternatives available with variations in these parameter(s): continuous output current per channel maximum operating voltage Select variant…

Compare all products in MCP Advanced Motor Controllers.
Recommended links
User manual for the MCP advanced brushed DC motor controllers.

Go here to find links to all of the downloadable RoboClaw and MCP resources, including datasheets for the individual controllers, drivers, source code libraries, and CAD drawings.

These application notes from Basicmicro explain their motor controllers and some of their features and modes of operation.