LP 12V Motor with 48 CPR Encoder for 25D mm Metal Gearmotors (No Gearbox, No End Cap)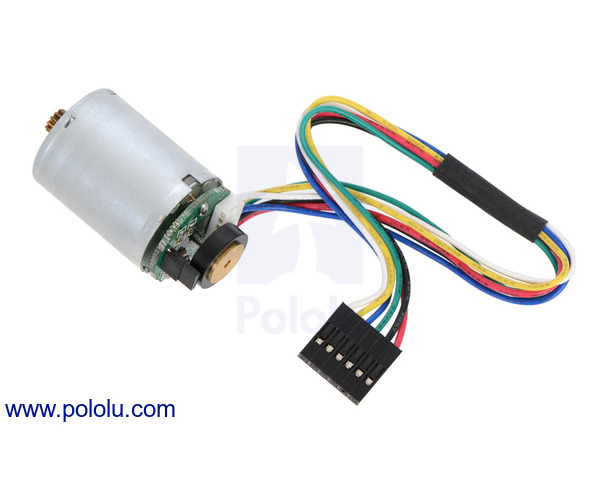 This is the motor and encoder portion of our low-power (LP), 12V 25D mm metal gearmotors with 48 CPR encoders. It does not include a gearbox, but the pinion gear on the output shaft works with all of our 25D mm gearmotor gearboxes, so this can be used as a replacement motor or encoder for those gearboxes.
| voltage | no-load performance | stall extrapolation |
| --- | --- | --- |
| 12 V | 5600 RPM, 20 mA | 0.15 kg⋅cm (2 oz⋅in), 1.1 A |
You can use the following selection boxes to choose from all of our 25D metal gearmotor versions:
Alternatives available with variations in these parameter(s): gear ratio motor type encoders? Select variant…
File downloads
Customer Richard Nguyen has documented his work modifying the Wild Thumper chassis to use 25D motors with encoders in place of the chassis's included motors.

Note: This is not an easy modification, and the chassis can be damaged if it is not done properly, so we generally recommend against it, and we can only provide very limited support for those who want to attempt it. The manufacturer did not intend for the chassis to be modified in this way, and we do not know how well such a modification will work out.
Recommended links
This MATLAB script, written by Ali Asgher Mansoor Habiby, plots speed, power, current draw, and efficiency as they vary with torque when you input the gearmotor specifications. It also prints the resistance of the motor, and the current draw and torque at which maximum efficiency and maximum power occur.