Tic T834 USB Multi-Interface Stepper Motor Controller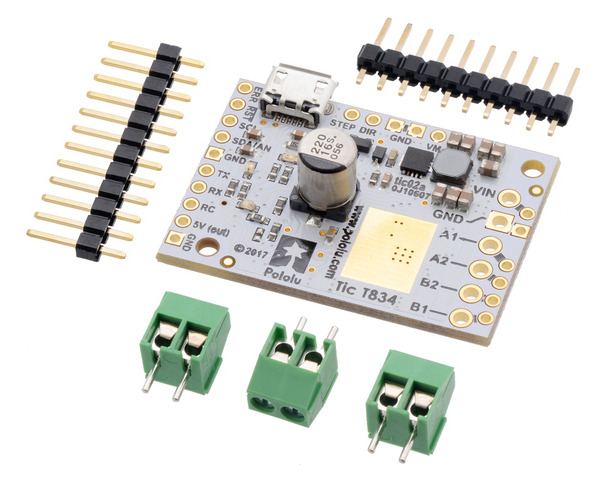 The Tic T834 USB Multi-Interface Stepper Motor Controller makes basic control of a stepper motor easy, with quick configuration over USB using our free software. The controller supports six control interfaces: USB, TTL serial, I²C, analog voltage (potentiometer), quadrature encoder, and hobby radio control (RC). This version incorporates a TI DRV8834 driver, and male headers and terminal blocks are included but not soldered. It can operate from 2.5 V to 10.8 V and can deliver up to approximately 1.5 A per phase without a heat sink or forced air flow (or 2 A max with sufficient additional cooling).
Alternatives available with variations in these parameter(s): model connectors soldered? Select variant…

Compare all products in Tic Stepper Motor Controllers.
I want to control a 3.9 V, 600 mA per phase bipolar stepper motor like this, but your Tic T825 stepper motor controller has a minimum operating voltage of 8.5 V. Can I use this controller without damaging the stepper motor?

Yes. To avoid damaging your stepper motor, you want to avoid exceeding the rated current, which is 600 mA in this instance. The Tic T825 stepper motor controller has configurable current limiting, so you can set a limit that is appropriate for your stepper motor. As long as you set the limit below the rated current, you will be within spec for your motor, even if the voltage exceeds the rated voltage. The voltage rating is just the voltage at which each coil draws the rated current, so the coils of your stepper motor will draw 600 mA at 3.9 V. By using a higher voltage along with active current limiting, the current is able to ramp up faster, which lets you achieve higher step rates than you could using the rated voltage.

If you do want to use a lower motor supply voltage for other reasons, consider using the Tic T500, which operates from 4.5 V to 35 V, or the Tic T834, which operates from 2.5 V to 10.8 V.