Magnetic Encoder Pair Kit for Micro Metal Gearmotors, 12 CPR, 2.7-18V (HPCB compatible)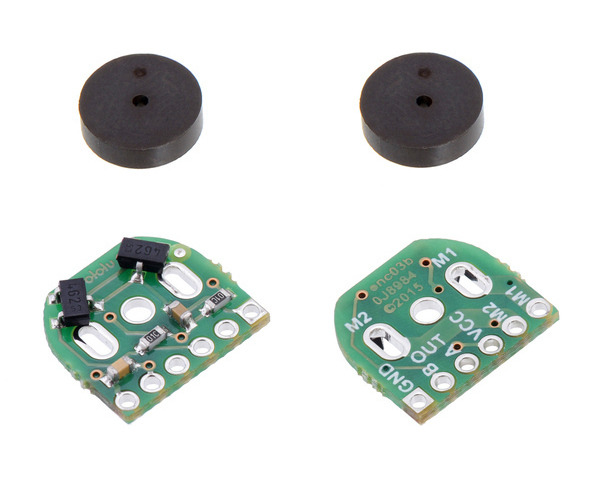 Add quadrature encoders to your micro metal gearmotors (extended back shaft version required) with this kit that uses a magnetic disc and hall effect sensors to provide 12 counts per revolution of the motor shaft. The sensors operate from 2.7 V to 18 V and provide digital outputs that can be connected directly to a microcontroller or other digital circuit. This module is compatible with all of the dual-shaft micro metal gearmotors we carry, including the HPCB versions.
Compare all products in Encoders for Micro Metal Gearmotors.
- 18 May 2017

Alvaro Villoslada, Pololu customer, made this impressive open-source 3D-printable hand prothesis. Each finger uses a 1000:1 Micro Metal Gearmotor...

- 4 May 2016

On Monday, Colin McGinn launched a Kickstarter in order to create a 3D short film using Tru.D 3D, which is a volumetric display system that he...

- 25 October 2015

It has been a few months since we introduced our new high-power micro metal gearmotors with longer life carbon brushes. We now have them available...