New products: Magnetic Encoder Pair Kit with JST SH-type Connectors for Micro Metal Gearmotors
Posted by
Patrick
on 23 October 2019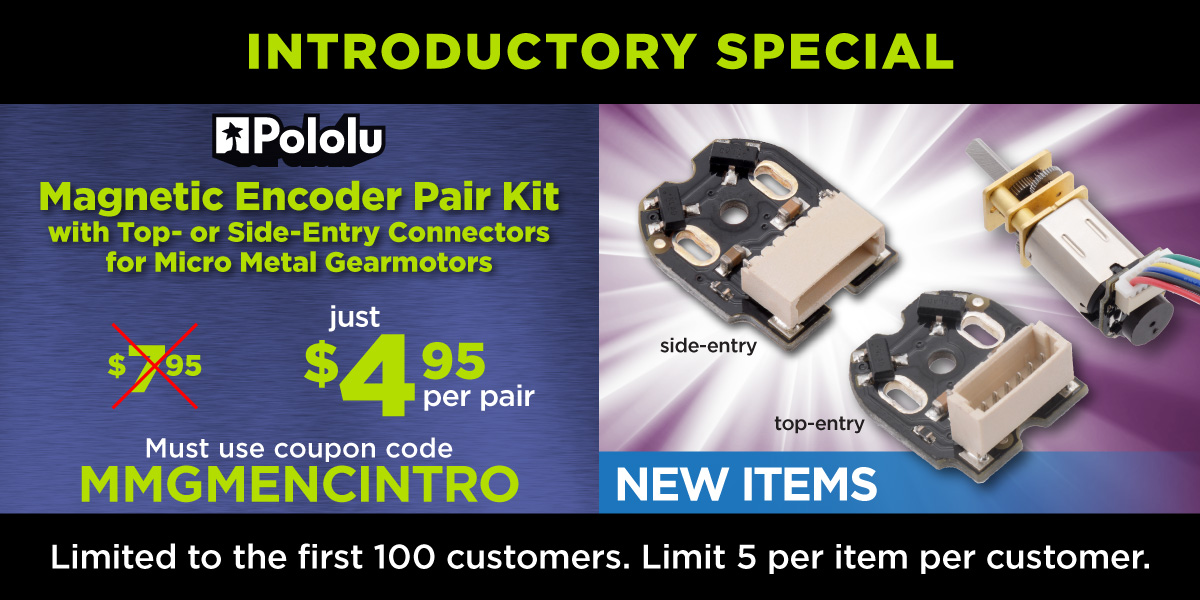 Everyone wants encoders on their motors, but not everyone wants to solder a bunch of wires to a tiny encoder board. That is why I am excited to announce that we are now offering two new versions of magnetic encoders for Micro Metal Gearmotors that feature JST SH-type connectors:
These encoders are easier to get up and running than our previous design that requires soldering to through-holes with a 2 mm pitch. With these new encoders, you just have to solder the board to the two motor tabs (sorry, that part is not going away yet), put the magnetic disc on the backshaft, and plug in your cable (available separately in a variety of lengths)!
We think that the "micro" aspect of our Micro Metal Gearmotors is one of their coolest features since their small size make them useful in a wide array of projects. We designed these encoders with this in mind, making them within the profile of the gearmotor on three sides (the side with the connector extends a few millimeters past the motor). Since everyone's constraints are different, we decided to make two encoder versions, one with a top-entry connector that lets the cable come straight out of the back, and one with a side-entry connector for applications where there isn't much space past the rear of the motor. We are also continuing to offer encoder boards with through-holes, which allow wires to be soldered to the board for especially compact installations.
Remember that you will also need 6-pin female JST SH-style cables to use our new encoders. We are offering those cables in three lengths: 12 cm, 30 cm, and 75 cm.
The ends of our cables are unterminated so you can decide how you want to connect them in your project (solder, crimp connectors, terminal blocks, etc.).
Introductory special
In case you are not as excited as I am yet, our intro special might help. Right now, you can get up to five of our new encoder pair kits for just $4.95 each using the coupon code MMGMENCINTRO! (Click to add the coupon code to your cart.) But you better hurry, this offer is limited to the first hundred customers to use the coupon code.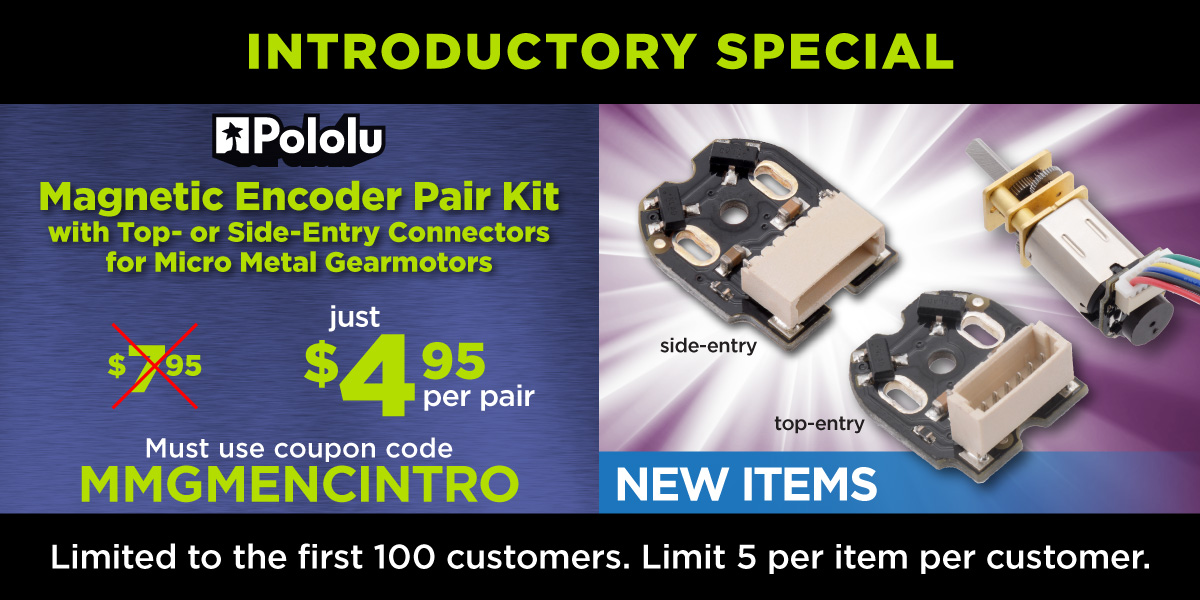 4 comments
Post a comment