New product: Pololu 400-Point Breadboard with Mounting Holes
Posted by
Emily
on 1 November 2019
What's this? A 400-Point breadboard with mounting holes! We know you've been waiting for this your whole life.
Okay, maybe not. But hey, mounting holes are awesome, and now you can pick up some of our new 400-point breadboards and mount them all over the place!
This 3.2″ × 2.1″ breadboard is fairly standard in many ways. It has four bus lines spanning the length of the board and 30 rows of pins, enough for up to four 14-pin DIP ICs or three 16-pin DIP ICs. The rows and columns of tie points are conveniently labeled, multiple units can be connected for larger projects, and it has an adhesive backing for those of you who like sticking breadboards on things.
But this breadboard is also a little special. It has eight mounting holes for M2 or #2 screws spaced evenly down the center on a 1 cm pitch. Now you can do stuff like mount your breadboard to a Romi Chassis (or any robot chassis) with some standoffs like this:
Wow! So convenient! And they're just $2.49 each! But, even better, we've got a special discounted price for the first hundred customers. Get up to 10 boards at just $1.75 each using coupon code 400PTBBINTRO!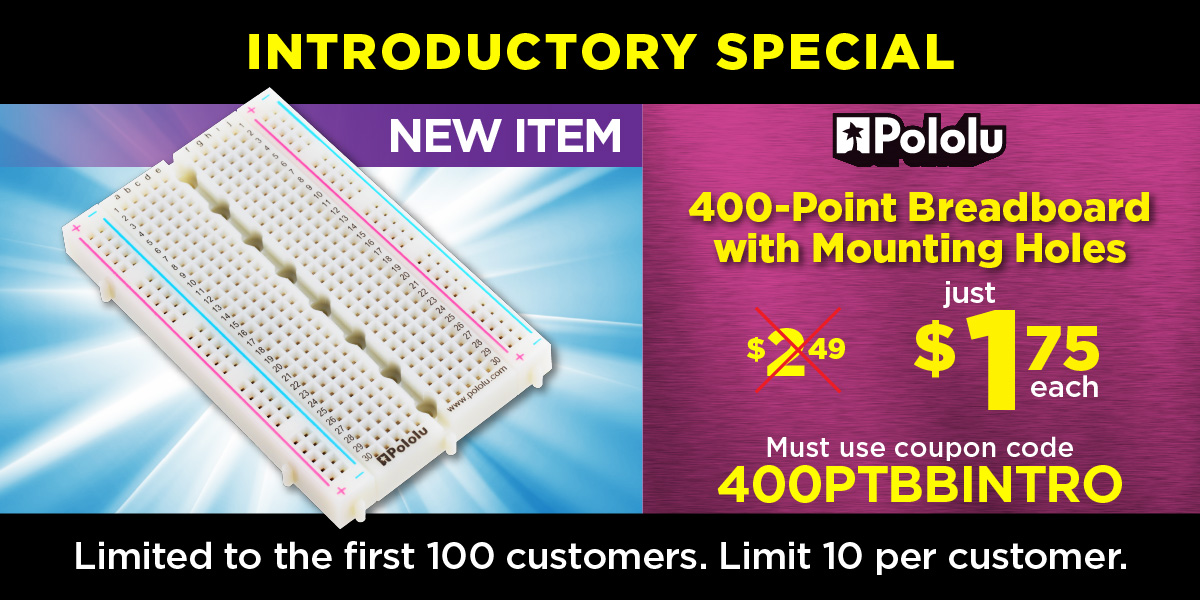 0 comments
Post a comment