Big MOSFET Slide Switch with Reverse Voltage Protection, MP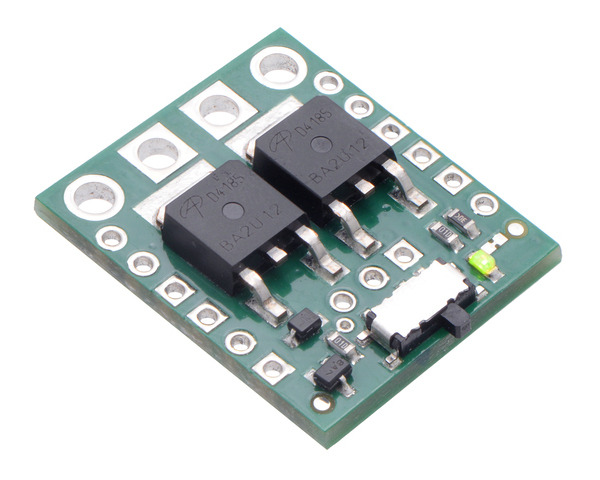 This breadboard-compatible module is an alternative to bulky power switches. It uses a small integrated slide switch to control a high-side power MOSFET that can deliver continuous currents up to around 8 A at 4.5 V to 40 V. The board features reverse-voltage protection and also makes it easy to control the MOSFET with an external switch or the digital output of a microcontroller.

Compare all products in Pololu Power Switches.
Dimensions
| | |
| --- | --- |
| Size: | 0.8″ × 0.9″ × 0.16″1 |
| Weight: | 2.6 g2 |
General specifications
| | |
| --- | --- |
| Current rating: | 8 A3 |
| Minimum operating voltage: | 4.5 V |
| Maximum operating voltage: | 40 V4 |
| Reverse voltage protection?: | Y |
Identifying markings
| | |
| --- | --- |
| PCB dev codes: | psw04b |
| Other PCB markings: | 0J9260 |
Notes: