Adafruit Flex Perma-Proto Half-Sized Breadboard Flex-PCB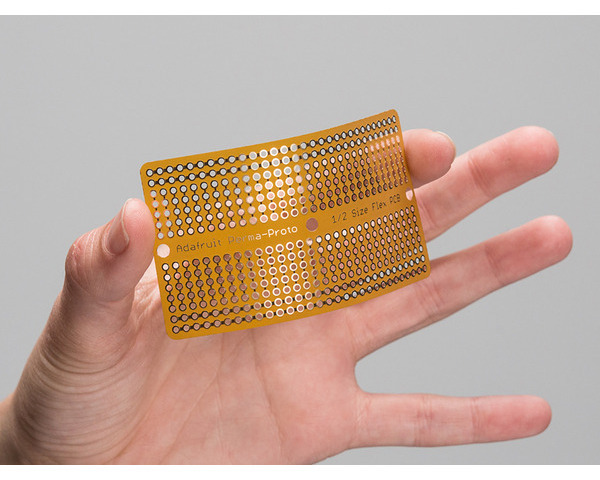 This half-sized perma-proto board from Adafruit functions similarly to a standard perf-board in that through-hole parts must be soldered to the board, but the holes are internally connected like on a 420-point breadboard, with four bus lines that each span the length of the board and 30 rows of electrically connected pins. Unlike breadboards and perf-boards, this flex perma-proto board is made from thin polyamide film, which makes it incredibly flexible. Three mounting holes and its flexible design make this board great for fitting your circuit onto a curved surface or into your wearable electronics project.

Compare all products in Prototyping PCBs.
This Adafruit Flex Perma-Proto Half-Sized Breadboard Flex-PCBs bridge the gap between solderless breadboards and standard perf-boards by providing a through-hole layout similar to a breadboard that allows for permanent solder connections. The board contains four bus lines that can be used for two independent power supplies and 30 rows of through-holes that are divided into two blocks, just like on a typical breadboard. The five-pin rows of each block are electrically connected, minimizing the need to use extra wires to make connections. This configuration makes it possible to mount two 14-pin DIP ICs and easily connect other components to their pins. The electrical connections of all the through-holes on the perma-proto board can be easily viewed from the back side.
| | |
| --- | --- |
| Adafruit Flex Perma-Proto Half-Sized Breadboard Flex-PCB. | Adafruit Flex Perma-Proto Half-Sized Breadboard Flex-PCB, bottom view. |
The board measures 3.1″ × 1.7″ and is only 0.005" thick. Because of the unique material this proto board is made of, it is extremely flexible and able to be cut with scissors. It has a bend radius of 1 cm, which makes it ideal for fitting in tight, curved spaces or wearable electronics projects. The board can also be creased, though creasing it too close to a trace could damage the connection. Please note that the board is not rigid and will not hold its shape, so some kind of backing or other structure is generally required when mounting it in a project.
The board has three has two 0.125″ mounting holes for #4 or M3 screws spaced 1.45″ apart, and uses 47 mil (1.2 mm) diameter through holes to accommodate parts with thick leads like diodes. In addition, all of the holes on the board are through-plated for strength and feature a gold-plate finish to prevent oxidation. There is also no solder mask, so you can easily cut traces.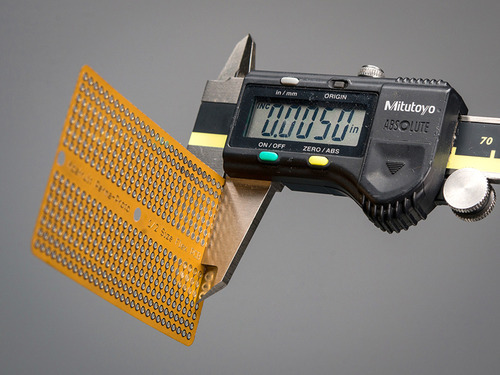 Adafruit Flex Perma-Proto Half-Sized Breadboard Flex-PCB with calipers showing its thickness.
If you want to make temporary connections to this protoboard, you can solder in 0.1″ terminal blocks, which work well with stripped, unterminated wires, or male or female headers, which work with our premium jumper wires and wires with pre-crimped terminals. The picture below shows a rigid quarter-sized Perma-Proto board with some 0.1″ terminal blocks and a 0.1″ male header: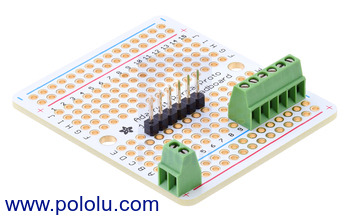 0.1″ terminal blocks and a male header strip in an Adafruit Perma-Proto prototyping PCB.
We also carry several rigid perma-protoboards from Adafruit:
Alternatives available with variations in these parameter(s): point count Select variant…
Note: This product is Adafruit product ID 1518.
People often buy this product together with: