Addressable Through-Hole 5mm RGB LED with Diffused Lens, WS2811 Driver (10-Pack)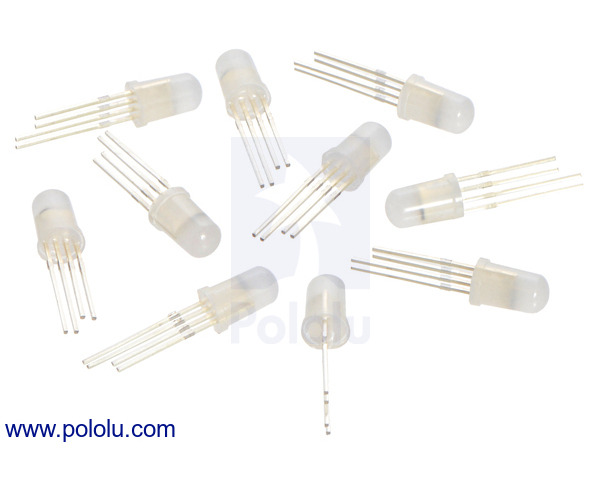 This 10-pack of 5 mm through-hole RGB LEDs offers an easy way to add colorful and complex lighting effects to a project. Each diffused LED features an integrated WS2811 driver that operates at 5 V and is controlled through a high-speed one-wire digital interface that allows multiple LEDs to be connected together to form a chain of addressable RGB LEDs.
Alternatives available with variations in these parameter(s): LED diameter Select variant…

Compare all products in Addressable RGB LEDs Based on the SK6812/WS281x or

LEDs or

Addressable Through-Hole RGB LEDs.
Dimensions
General specifications
| | |
| --- | --- |
| Typical operating voltage: | 5 V |
| LEDs: | 10 |
| Color: | RGB |
| Maximum current draw: | 50 mA1 |
Notes: