Pololu DRV8835 Dual Motor Driver Shield for Arduino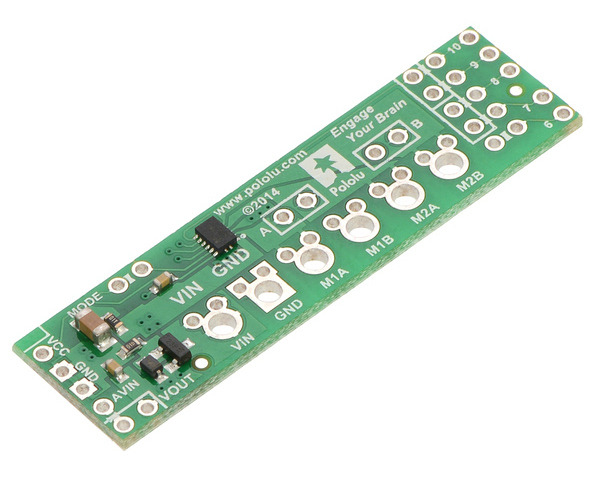 This small shield is an easy, economical way to control two small brushed DC motors with an Arduino or Arduino-compatible board. Its integrated DRV8835 dual motor driver allows it to operate from 1.5 V to 11 V, making it a great control option for low-voltage motors. The shield can deliver a continuous 1.2 A (1.5 A peak) per motor, or a continuous 2.4 A (3 A peak) to a single motor when configured with both channels connected in parallel.

Compare all products in Shields for Arduino or

Brushed DC Motor Drivers.
Dimensions
| | |
| --- | --- |
| Size: | 2.0″ × 0.56″1 |
| Weight: | 2.3 g1 |
General specifications
| | |
| --- | --- |
| Motor driver: | DRV8835 |
| Motor channels: | 2 |
| Minimum operating voltage: | 1.5 V2 |
| Maximum operating voltage: | 11 V |
| Continuous output current per channel: | 1.2 A3 |
| Peak output current per channel: | 1.5 A |
| Continuous paralleled output current: | 2.4 A3 |
| Maximum PWM frequency: | 250 kHz |
| Reverse voltage protection?: | Y |
Identifying markings
| | |
| --- | --- |
| PCB dev codes: | ash04a |
| Other PCB markings: | 0J8437 |
Notes: