Pololu Carrier with Sharp GP2Y0A60SZLF Analog Distance Sensor 10-150cm, 3V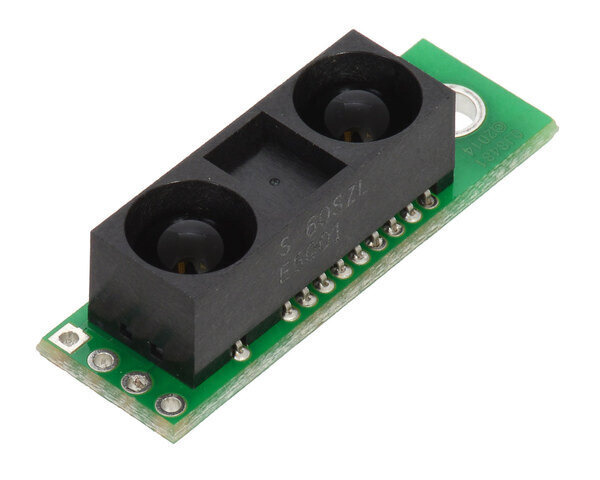 The GP2Y0A60SZ distance sensor from Sharp offers a wide detection range of 4″ to 60″ (10 cm to 150 cm) and a high update rate of 60 Hz. The distance is indicated by an analog voltage, so only a single analog input is required to interface with the module. The sensor ships installed on our compact carrier board, which makes it easy to integrate this great sensor into your project, and is configured for 3V mode.

Compare all products in Sharp Distance Sensors.
Dimensions
| | |
| --- | --- |
| Size: | 1.3″ × 0.41″ × 0.4″1 |
| Weight: | 2.4 g2 |
General specifications
| | |
| --- | --- |
| Maximum range: | 150 cm |
| Minimum range: | 10 cm |
| Sampling rate: | 60 Hz3 |
| Minimum operating voltage: | 2.7 V |
| Maximum operating voltage: | 3.6 V |
| Supply current: | 33 mA4 |
| Output type: | analog voltage |
| Output voltage differential: | 1.6 V |
Notes: