DRV8834 Low-Voltage Stepper Motor Driver Carrier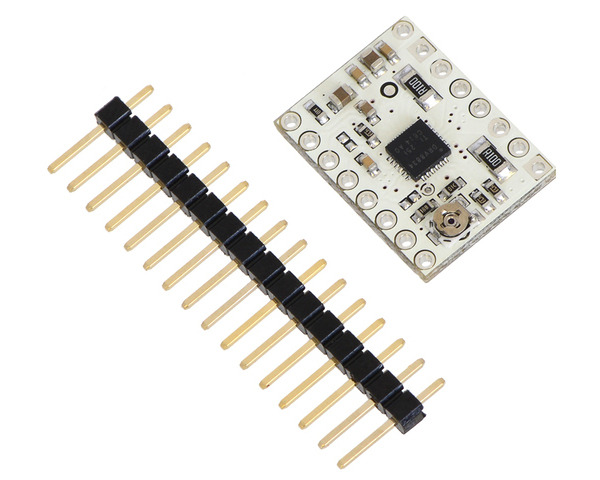 This is a breakout board for TI's DRV8834 microstepping bipolar stepper motor driver. It has a pinout and interface that are nearly identical to those of our A4988 carriers, so it can be used as a drop-in replacement for those boards in many applications. The DRV8834 operates from 2.5–10.8 V, allowing stepper motors to be powered with voltages that are too low for other drivers, and can deliver up to approximately 1.5 A per phase continuously without a heat sink or forced air flow (up to 2 A peak). It features adjustable current limiting, overcurrent and overtemperature protection, and six microstep resolutions (down to 1/32-step). This board ships with 0.1″ male header pins included but not soldered in.
Compare all products in Stepper Motor Drivers or
16-pin Stepper Motor Drivers.
File downloads
Printable schematic diagram for the DRV8834 low-voltage stepper motor driver carrier.
This DXF drawing shows the locations of all of the board's holes.
Recommended links
Texas Instruments product page for the DRV8834, where you can find the latest datasheet and additional resources.
This Arduino library, written by forum member laurb9, allows users to control a stepper motor with our A4988, DRV8825, or DRV8834 carriers. The library has functions that enable users to set rotational rate, change microstepping mode, and specify how many steps to take or specify how many degrees to rotate.