Pololu Adjustable Step-Up/Step-Down Voltage Regulator S8V3A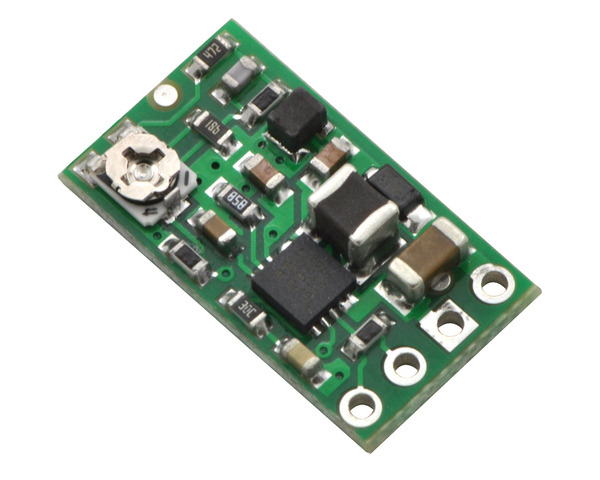 This switching regulator uses the SEPIC topology to provide a regulated output voltage that can be higher than, the same as, or lower than the input voltage, making it great for applications with widely-varying power supplies and for battery-operated applications where the battery transitions from being above the output to below the output as it discharges. The small (0.4″×0.7″) module can support input voltages from 1.5 V to 12 V, has an adjustable output from 2 V to 12 V, and can supply over 300 mA in typical applications.
Compare all products in Step-Up/Step-Down Voltage Regulators.
Dimensions
| | |
| --- | --- |
| Size: | 0.40" x 0.70" x 0.15"1 |
| Weight: | 0.7 g1 |
General specifications
| | |
| --- | --- |
| Minimum operating voltage: | 1.5 V |
| Maximum operating voltage: | 16 V |
| Maximum output current: | 300 mA2 |
| Minimum output voltage: | 2 V |
| Maximum output voltage: | 12 V |
| Reverse voltage protection?: | N |
Identifying markings
| | |
| --- | --- |
| PCB dev codes: | reg06a |
| Other PCB markings: | 0J2411 |
Notes: