GWS S689-2BB/MG/JR Giant Servo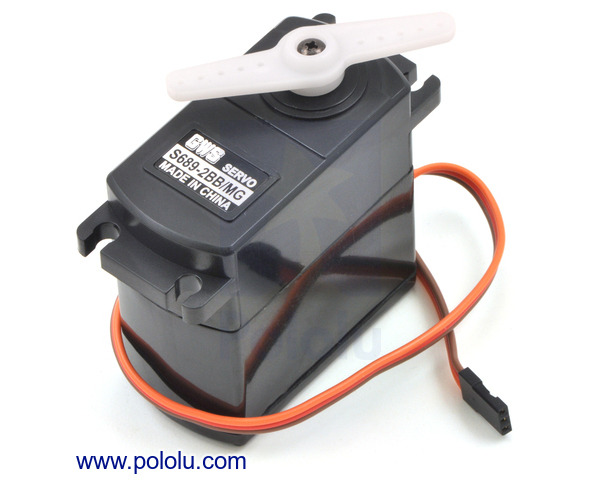 For projects that require brute strength, look no further than the S689-2BB/MG. This giant-scale servo from GWS delivers extremely high torque, and it doesn't sacrifice speed to do it. The output shaft is supported by two ball bearings, and the gears are metal for increased durability. Servo horns and associated hardware are included.

Key specs at 6 V: 0.128 sec/60°, 400 oz-in (30 kg-cm), 160 g.
Discontinuation Notice: This product has been discontinued. Suggested replacement: Power HD Ultra-High-Torque, High-Voltage Digital Giant Servo HD-1235MG.
The GWS S689 2BB MG is a heavy-duty giant-size servo that features metal gears and two ball bearings and can deliver a tremendous amount of torque without sacrificing speed. This servo is a replacement for, and upgrade over, the older GWS S666N 2BB MG. This GWS servo comes with a JR-style connector, mounting hardware, and an assortment of servo horns. Please note that the included hardware and servo horns might vary from what is shown in the picture below. You can find more information about this servo under the specifications tab.
| | |
| --- | --- |
| Hardware included with the GWS S689-2BB/MG/JR giant servo (hardware may vary). | GWS S689-2BB/MG/JR giant servo with US quarter for size reference. |
People often buy this product together with: