Invenscience i00600 Torxis Servo 1600 oz.in. 1.5 sec/90 deg
The i00600 Torxis is an ultra-high-torque servo that can deliver a continuous duty torque of up to 1600 oz-in (115 kg-cm) at 12 V. This monster servo is controlled via the standard radio-controlled hobby servo interface and can travel 90 degrees in 1.5 seconds. The Torxis servo's strength makes it suitable for applications that are too demanding even for giant-scale servos, and its 0.125"-thick mounting flange and aluminum main housing make it rugged enough for the rigors of a factory environment.
Compare all products in RC Servos.
Overview
The industrial-grade Torxis high-torque servos by Invenscience are available in two different gear ratios that let you select for higher power or higher speed:
The i00600 Torxis can rotate 90° in 1.5 seconds while providing 100 lb-in (115 kg-cm) of continuous duty torque (200 lb-in peak torque).
The i00800 Torxis can rotate 90° in 0.75 seconds while providing 50 lb-in (57 kg-cm) of continuous torque (100 lb-in peak torque).
The servo is powered by 12 volts DC and draws approximately 3 A at full load. All of its gears are metal for increased durability, and the 3/8" hardened output shaft is supported by two ball bearings. It is pre-configured for a 90 degree range of motion, but this can be increased by reconfiguring the embedded controller (see the Bonus Feature section below for more information). The Torxis is controlled by the standard radio-controlled (RC) hobby servo signal used by most RC receivers and servo controllers.
The servo includes a pre-mounted metal horn as shown in the pictures; the horn has eight 10-32 threaded mounting holes. (No mounting hardware is included.)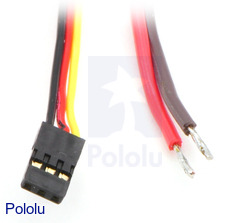 Torxis servo signal and power connections.
The Torxis control signal lead is terminated with a standard "JR"-style connector. Of the three wires connected to the "JR" connector, only two are connected: ground (black) and RC PWM signal (yellow). Power is connected via the Torxis' two separate, heavier-gauge wires.
The following video shows the i0060 Torxis servo lifting a 100 lb load as part of Invenscience's servo cycle testing: