Orangutan SVP-1284 Robot Controller (assembled)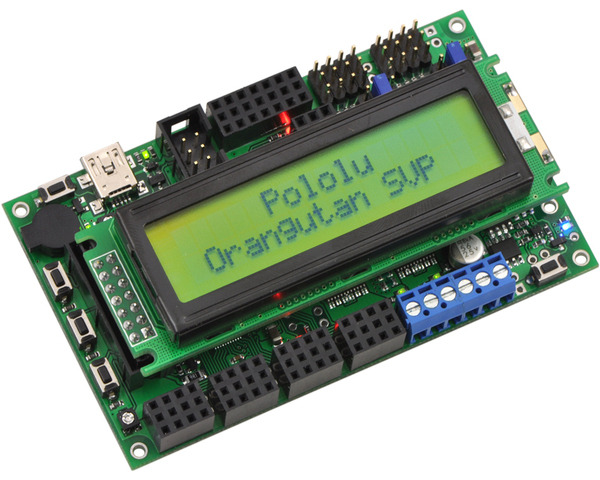 The Orangutan SVP-1284 robot controller is a super-sized version of our popular Orangutan SV, with a built-in AVR ISP programmer, more I/O lines, and more regulated power, and more memory. Based on the new ATmega1284P AVR microcontroller (128 KB flash, 16 KB RAM, 4 KB EEPROM) and featuring higher-power dual motor drivers (2 A continuous per channel), a bigger 16×2 LCD, and a demultiplexer for easy control of up to eight servos, the Orangutan SVP makes a great starting point for your robot or electronics project.
Alternatives available with variations in these parameter(s): processor Select variant…

Compare all products in Orangutan SVP Robot Controllers.
- 5 October 2015

We now support using the Orangutan Robot Controllers, 3pi robot, and the Pololu USB AVR Programmer with the new Atmel Studio 7.0 and Windows 10. To...

- 20 March 2013

We expect to release a simple carrier for ST's new LPS331AP pressure sensor this week. While testing and writing example programs for the sensor,...