1.1. Configurations and included components
The Zumo 32U4 OLED robot is available in several configurations:
In addition, the Zumo 32U4 OLED Main Board is available separately; it is primarily intended as a replacement part, but it can also be used to make your own Zumo 32U4 OLED robot if you do not want all of the parts included with our full kit.
The original (LCD) version of the Zumo 32U4 robot is also available as a kit or assembled with 50:1, 75:1, or 100:1 motors, and its control board can also be purchased separately.
Zumo 32U4 robot kit contents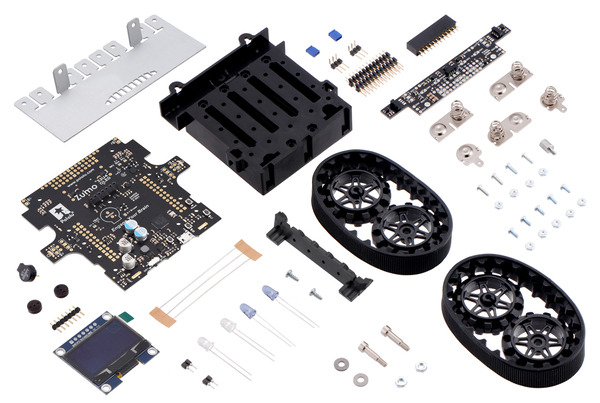 Contents of the Zumo 32U4 OLED robot kit.
The kit version of the Zumo 32U4 OLED robot includes the following items:
The diagrams above show the contents of the Zumo 32U4 OLED Kits. For the contents of the original Zumo 32U4 Kit, which includes an LCD and differ in a few other parts, refer to these diagrams instead.
The robot and chassis kit might include extra parts like jumper wires, screws, nuts, washers, and an acrylic spacer plate (which is not used in the Zumo 32U4), so do not be concerned if you have some leftover hardware after assembling your Zumo. Your kit might also include a length of heat shrink tubing that can be used as shrouds for IR LEDs. Kits shipped before August 2015 include heat shrink tubing but do not include the LED holder and its mounting screws.
Assembled Zumo 32U4 robot
The assembled versions of the Zumo 32U4 robot are complete, ready-to-program robot platforms built from the same components found in the Zumo 32U4 Robot Kit; no soldering or assembly is required. A choice of three motor gear ratios offer different combinations of torque and speed.
Different versions of the assembled Zumo 32U4 robots can be identified with a sticker on the underside of the main board, visible inside the battery compartment of the Zumo without batteries installed. The color of the sticker indicates the gear ratio of the robot's motors:
Green: 50:1 HP
Blue: 75:1 HP
Red: 100:1 HP
The assembled Zumo 32U4 robot is fitted with wide-angle IR emitter LEDs (clear); the narrow-angle LEDs (blue) are not included.