6.c. Laser Cutting Example: Giant 3-D Pterosaur Puzzle
Continuing with our non-robot examples, we made this custom laser-cut pterosaur puzzle as an example of how you can use two-dimensional pieces to build a three-dimensional part — in this case, the skeleton of a flying dinosaur!
As you can see from the picture to the right, the assembled pterosaur has a whopping 4-foot wingspan. It is comprised of 21 two-dimensional pieces laser cut from 1/8" acrylic. Each piece of the puzzle has slots for connecting to other pieces; all the parts fit snugly so the pterosaur stays intact. Mounting holes in the head and spine are available for hanging the completed 3-D dinosaur puzzle from the ceiling.
The size and quantity of parts for this dinosaur puzzle makes it a longer cutting job, but we offer discounted rates for such jobs to help keep your costs down.
This puzzle design was based on a small, wooden dinosaur puzzle available at many hobby shops; below is the drawing we created to cut some of the parts for our puzzle. If you would like to design a similar dinosaur puzzle as a unique gift or a fun decoration for your living room, you can use our laser cutting service to create your own giant 3-D dinosaur puzzle, or anything else you can think of – if you can draw it, we can cut it!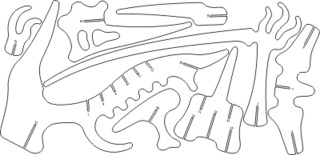 CAD drawing for the dinosaur puzzle.
Pricing
| | |
| --- | --- |
| Cutting cost: | $68.00 |
| Material cost for 5 sq. ft. of 1/8" transparent gray acrylic | $20.00 |
| This custom 3-D petrosaur puzzle shipped for: | $88.00 |