February 2021 coronavirus operations update
Posted by
Jan
on 23 February 2021
We are approaching a year since governments in the US started shutting down businesses in response to the pandemic, and by this time last year, the then-novel coronavirus was already causing what we naively considered to be severe disruption to our operations because of the restrictions that were implemented in China. (We have an office in Shenzhen, and many parts we use, such as bare printed circuit boards, come from China even when our China office is not involved).
The past year has been so filled with ups and downs that it's difficult to recall how things were when. In my last update in mid-November, I almost wrote something about no one at Pololu having tested positive for COVID yet. That same week, we had several employees test positive as we were caught up in Nevada's surge in cases. Nevada, like many other states, newly tightened restrictions on businesses and public gatherings, and we scaled back in-person staff to only those necessary on premises for basic operations. Over the holiday period, we had an additional 10-15 people who had been back return to being off-site, leaving around 30 on-site. Fortunately, we seem to have prevented any coronavirus transmission here, and those who did get sick have recovered without serious complications.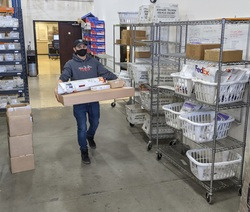 Nevada's government-mandated "pause" was extended twice, and some of the restrictions finally began easing in mid-February. We did have some additional isolated COVID cases among our employees this year, but we have been able to maintain production and shipping throughout this time. It looks like new infection rates are coming down and vaccination rates are going up, which makes it easy to be optimistic that the worst is finally behind us. Like everyone else in the world, we don't know what changes are still ahead and how close we are to full (or at least substantial) resumption of activities, but it was a big relief at least to make it through 2020, and now the first two months of 2021.
Looking back, we were fortunate to be where we were when the pandemic hit us. One major example is that we did some fairly substantial renovations from 2018-2019, and we spent most of 2019 with big holes in our floors and many areas of the building impassable. I had this hole outside my office starting in February 2019, and the stairs weren't even usable until July (and they were finally finished even later)!
And our production area looks much better today than it did for most of 2019:
And while it's still sad to see how empty and underutilized our breakroom has been for the past year, it still beats the piles of dirt we had inside less than a year before.
2020 was stressful enough as it was, and I am very grateful we wrapped up the remodeling by the time the pandemic hit. I feel so sorry for all the businesses who made similar recent investments before the pandemic and then had their businesses completely shut down. At least we are still able to use the space, and I hope it will eventually see more use as it gets safer to have more people in the building.
So, where does that leave us going forward? I'm reminded of a false "proof" by induction, that I can carry infinite weight because I know I can carry some weight and for any weight I can carry, I can carry one gram more. It's easy to take it for granted and get lulled into complacency that since we've made it this far, we'll make it forever. (That keeps being true until it's not.) However, I do want to recognize that while in some sense we lost a year, in many ways, we are in a better place than we were a year ago. One way we are acknowledging this is to update our donation requests to be less about our survival. I am hesitant to completely remove those requests and declare victory since that would be an unwarranted arrogance, so I would rather reframe the donation requests as an invitation to support us if you like what we do, similar to how you might donate to content creators on YouTube or Patreon.
Our operations are still stretched fairly thin since we have about 30% fewer people doing almost the same amount of work as we did a year ago. Some things are more difficult to do now than before, but we also have a more experienced core team and we keep working on our processes to do things better. Our emphasis is on normal production and order fulfillment, which I hope has gone well enough that most customers will not have noticed any changes. New challenges, including component shortages and other supply chain disruptions, keep cropping up, but that was also true of just normal life before the pandemic, too. Some of our extra support and special services like product customizations have been affected, but we will work on improving those and on more effective ways to address the very broad range of challenges our customers face.
Thank you to everyone who has supported us and helped us get through this past year. We hope the worst is behind us, and we will keep working hard to contribute to a better future for all of us.
0 comments
Post a comment