New products: JST SH-Style cables and connectors for Micro Metal Gearmotor encoders
Posted by
Emily
on 9 December 2020
We have expanded our selection of JST SH-style cables and connectors! These cables and connectors are ideal for use with our magnetic encoders for Micro Metal Gearmotors as seen in the photo on the right above.
In addition to the 6-pin single-ended female JST SH-style cables we've offered for a while, we now offer 6-pin female-female JST SH-style cables in five different lengths. Here's the full list of currently available options:
To go along with the new female-female cables, we also have breakout boards available for both the side-entry and top-entry versions of the JST SH-style connector. When used with our encoders and JST cables, these breakout boards offer a convenient way to access the encoder signal and power pins through a breadboard, and the pins are labeled on the board's bottom silkscreen with this application in mind. Alternatively, these boards can serve as general-purpose breakouts for other applications that do not involve encoders. For example, a pair of connector breakouts with a female-female cable could be used as a removable general-purpose interconnect between different parts of a modular system.
We are trying something new with how we package and sell these connector boards. At Pololu, all our electronics undergo functional testing, where each product is placed on a custom testing apparatus and checked for functionality. This is a labor intensive step in our production process, and for a product as simple as these connector boards, testing and packaging represent a significant amount of the cost to produce it. As such, we are offering two options for purchasing these connector boards: either fully tested and individually packaged, or an untested pack of three.
Even though we do not functionally test the discounted 3-packs, each one undergoes automated optical inspection (AOI) to visually check the placement of the connector and the quality of the solder joints. Additionally, each printed circuit board (PCB) is electrically tested by our PCB manufacturer, so we know the PCB itself is free from electrical defects. This makes it very unlikely for any of the breakout boards to be bad.
The additional functional testing we perform on the fully tested units just confirms the solder connections between the connector and the board. If you purchase the untested units but would still like this additional confirmation, you can easily check it yourself with a multimeter. (Just use it to check for continuity between corresponding pins on the actual JST connector and through-holes on the board, and verify that there is no continuity between adjacent pins.) In the unlikely event you receive a unit with a poor or shorted connection, you should be able to touch it up yourself with a soldering iron. So for common applications that require two boards, such as use with a pair of encoders, you have the option of two individually packaged units we have confirmed functional or, for the same price, three units that have passed visual inspection and are very likely to leave you with two functional units plus a spare.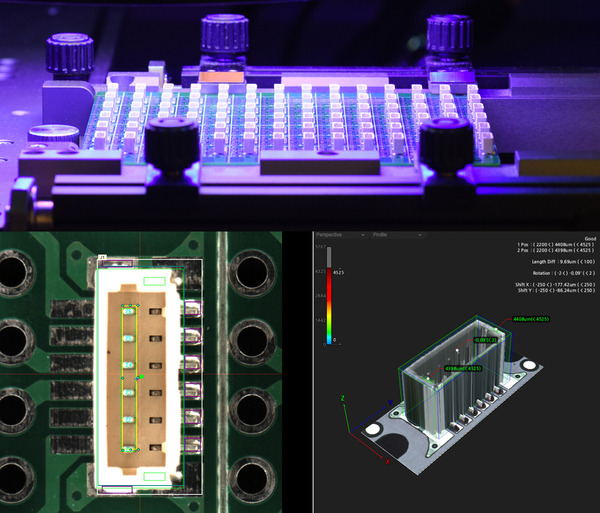 All units automatically optically inspected.
Here are all of our 6-pin JST SH-style connector options:
All of these cables and connectors and the encoders they are compatible with can be found here. And you can get 15% off the encoders and cables using coupons from our Christmas Sale going on now!
What do you think about this kind of approach where we test something less thoroughly in order to offer it at a lower price? Would you prefer it over the fully tested option? Do you think one option will be more popular than the other? We'd love to hear your thoughts!
0 comments
Post a comment