New products: Pololu Wheels for Micro and Standard Servos
Posted by
Emily
on 22 January 2020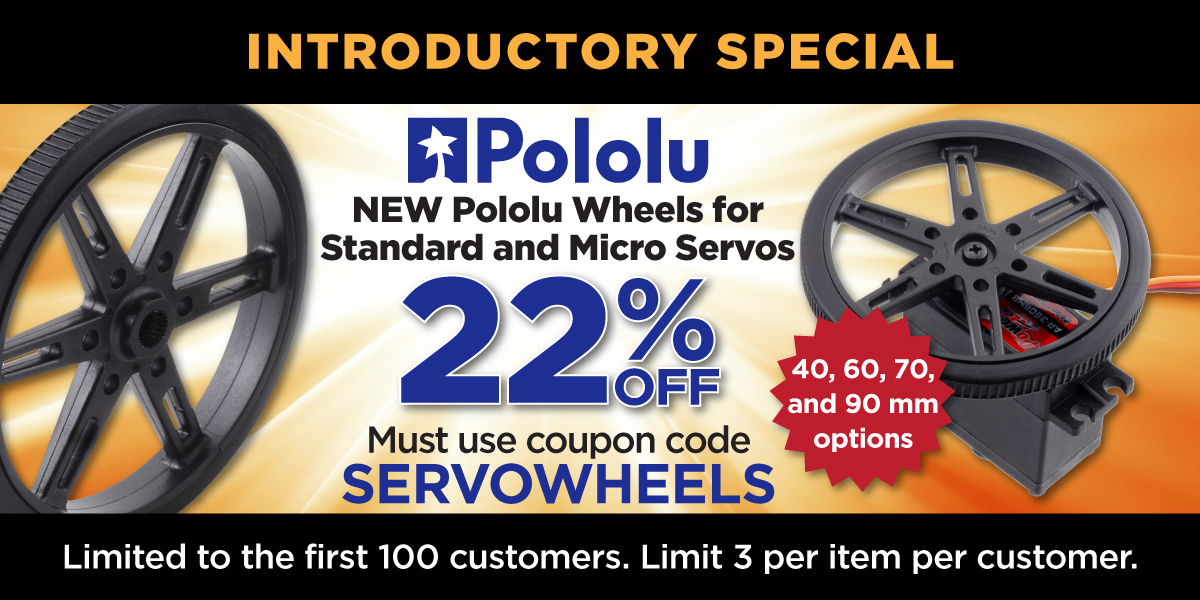 We are thrilled to announce the release of our wheels for micro and standard sized servos. These wheels are similar to our wheels for 3mm D shafts and consist of a durable ABS hub with a silicone tire. They are currently available in 40, 60, 70, and 90 mm diameter options. All but the 40 mm size feature mounting holes that are compatible with various versions of our universal mounting hubs and slots in the spokes that allow additional accessories to be mounted to the wheel such as decorations or parts of an encoder system.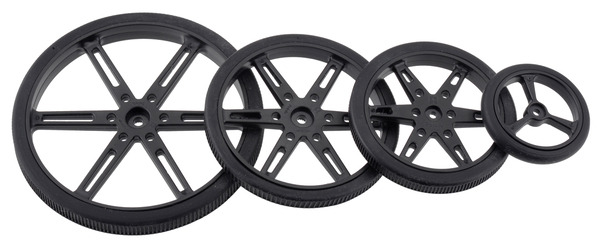 Black Pololu Wheels for Standard and Micro Servos – 90, 70, 60, and 40 mm diameters.
The 40 mm and 60 mm sizes are compatible with micro servo splines with 20 teeth and a 4.8 mm diameter and can be used with the following continuous rotation servos that we carry:
The 70 mm and 90 mm sizes are compatible with standard servo splines with 25 teeth and a 5.8 mm diameter and can be used with the following continuous rotation servos that we carry:
If you plan on using the wheels with a servo not listed above, be sure to check your servo's specifications for compatibility as servo splines are not standardized for particular sized servos.
These wheels, like many of our plastic parts, are designed by us at our Las Vegas facility and then injection molded in China. Usually, we ship bulkier parts made overseas by boat, which can take several months to get here. We were so excited about these, though, that we couldn't wait that long! So, we had a small amount shipped by air to make them available as soon as possible. This means the initial stock of these is limited, and while we'll have more coming by boat, the upcoming Chinese New Year will delay that even more than usual. So if you don't want to miss out on these initial units, order yours soon!
Introductory special
As usual, we are offering an extra introductory special discount on these wheels, to help share in our celebration of releasing new products. The first hundred customers to use coupon code SERVOWHEELS can get 22% off up to 3 pairs of each size!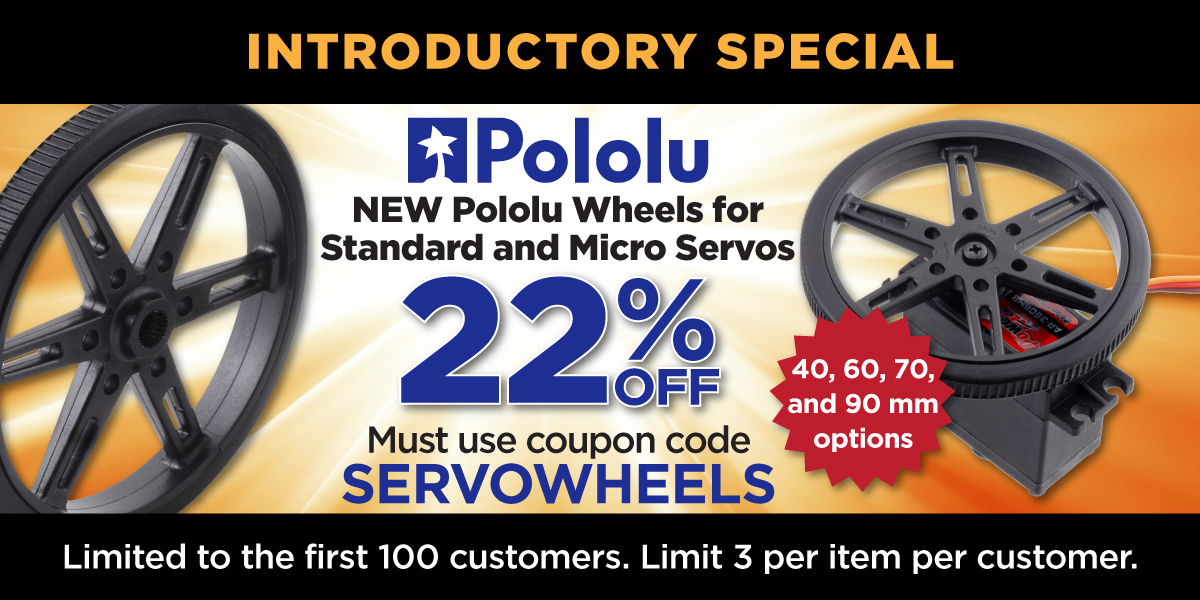 0 comments
Post a comment