New product: STSPIN220 Low-Voltage Stepper Motor Driver Carrier with 1/256 microstepping
Posted by
Ben
on 16 January 2019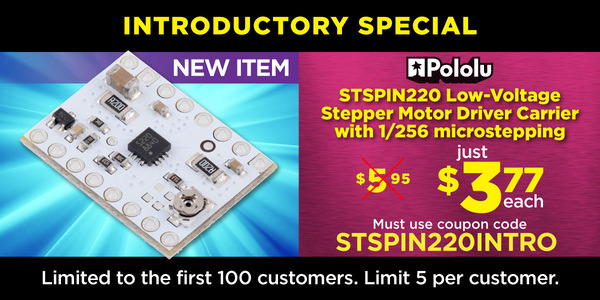 I am happy to announce our first new product of 2019, a carrier board for the STSPIN220 stepper motor driver, which operates all the way down to 1.8 V, making it our lowest-voltage stepper motor driver. And like its higher-voltage sibling, the STSPIN820 that we released a few months ago, it offers microstepping down to 1/256 steps. This new carrier board has the same 16-pin, 0.6″ × 0.8″ form factor as our other popular stepper motor drivers, and as with our STSPIN820 carrier, it inverts the enable input so that it has the more familiar functionality of those drivers (but be careful not to pop these into a 12 V or 24 V socket!).
By the way, keep in mind that you do not necessarily need a low-voltage stepper motor driver just because your stepper motor has a low rated voltage. The voltage rating is just the voltage at which your stepper motor will draw its rated current, and it's really the current rating that you need to be careful about if you want to avoid damaging your stepper motor. All of our stepper motor drivers let you limit the maximum current, so as long as you set the limit below the rated current, you will be within spec for your motor, even if the voltage exceeds the rated voltage. In general, using a high supply voltage along with active current limiting allows for better performance, so the main reason for using a low-voltage stepper motor driver like the STSPIN220 is if your supply voltage is constrained to some low value by some other aspect of your system.
This new release brings our selection of stepper motor drivers in this compact form factor to eleven:

A4988
(original)

A4988,
Black Ed.

DRV8825

DRV8834

DRV8880

MP6500,
Pot. CC

MP6500,
Digital CC

TB67S279­FTG

TB67S249­FTG

STSPIN­820

STSPIN­220
Driver chip:
A4988
DRV8825
DRV8834
DRV8880
MP6500
TB67S279­FTG
TB67S249­FTG
STSPIN­820
STSPIN­220
Min operating voltage:
8 V
8.2 V
2.5 V
6.5 V
4.5 V
10 V
10 V
7 V
1.8 V
Max operating voltage:
35 V
45 V
10.8 V
45 V
35 V
47 V
47 V
45 V
10 V
Max continuous current per phase:(1)
1 A
1.2 A
1.5 A
1.5 A
1 A
1.5 A
1.1 A
1.6 A
0.9 A
1.1 A
Peak current per phase:(2)
2 A
2.2 A
2 A
1.6 A
2.5 A
2 A
2 A
4.5 A
1.5 A
1.3 A
Microstepping down to:
1/16
1/32
1/32
1/16
1/8
1/32
1/32
1/256
1/256
Board layer count:
2
4
4
4
4
4
4
4
4
4
Special features:
high current
low-voltage
operation,
high current
AutoTune,
digital current
reduction
high current
digital current
control,
high current
Auto Gain Control,
ADMD,
high max voltage
Auto Gain Control,
ADMD,
high max voltage,
high current
128 and 256
microsteps,
high max
voltage
64, 128, and
256 microsteps,
low-voltage
operation
1-piece price:
$17.95
$17.95
$18.95
$9.95
$8.95
$12.95
$12.95
$10.75
$21.95
$14.95
$7.95
1 On Pololu carrier board, at room temperature, and without additional cooling.
2 Maximum theoretical current based on components on the board (additional cooling required).
Last year, we began offering introductory specials to celebrate each newly released product, and we are continuing with that this year: the first 100 customers that use coupon code STSPIN220INTRO can get up to five units at just $3.77 each.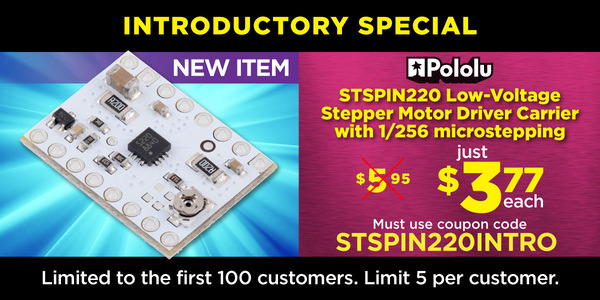 0 comments
Post a comment